Each of these pieces has been individually "Handmade with Love" using the gifts of "Mother Earth" and the "Healing Powers" of crystals.
One off pieces can also be made to order especially for you!
Bringer of Change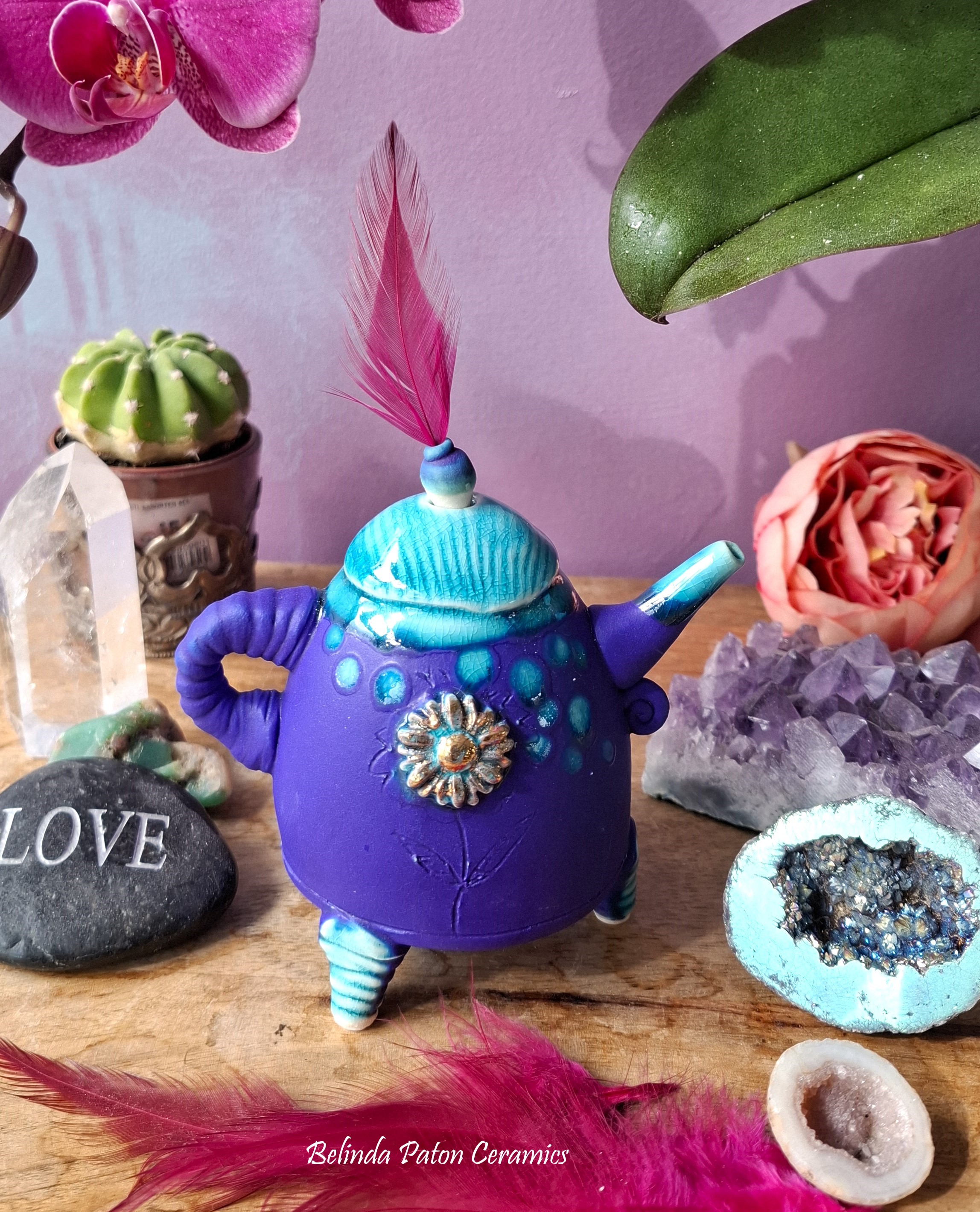 $ 95 NZD
1 Rhyolite and freshwater pearl - Rhyolite brings infinite possibilities to you if you are ready for change. She spurs your creative energies to help you reach far beyond what you have known before and she will help you to break through any barriers that are holding you back from taking that next step.
Elemental Magic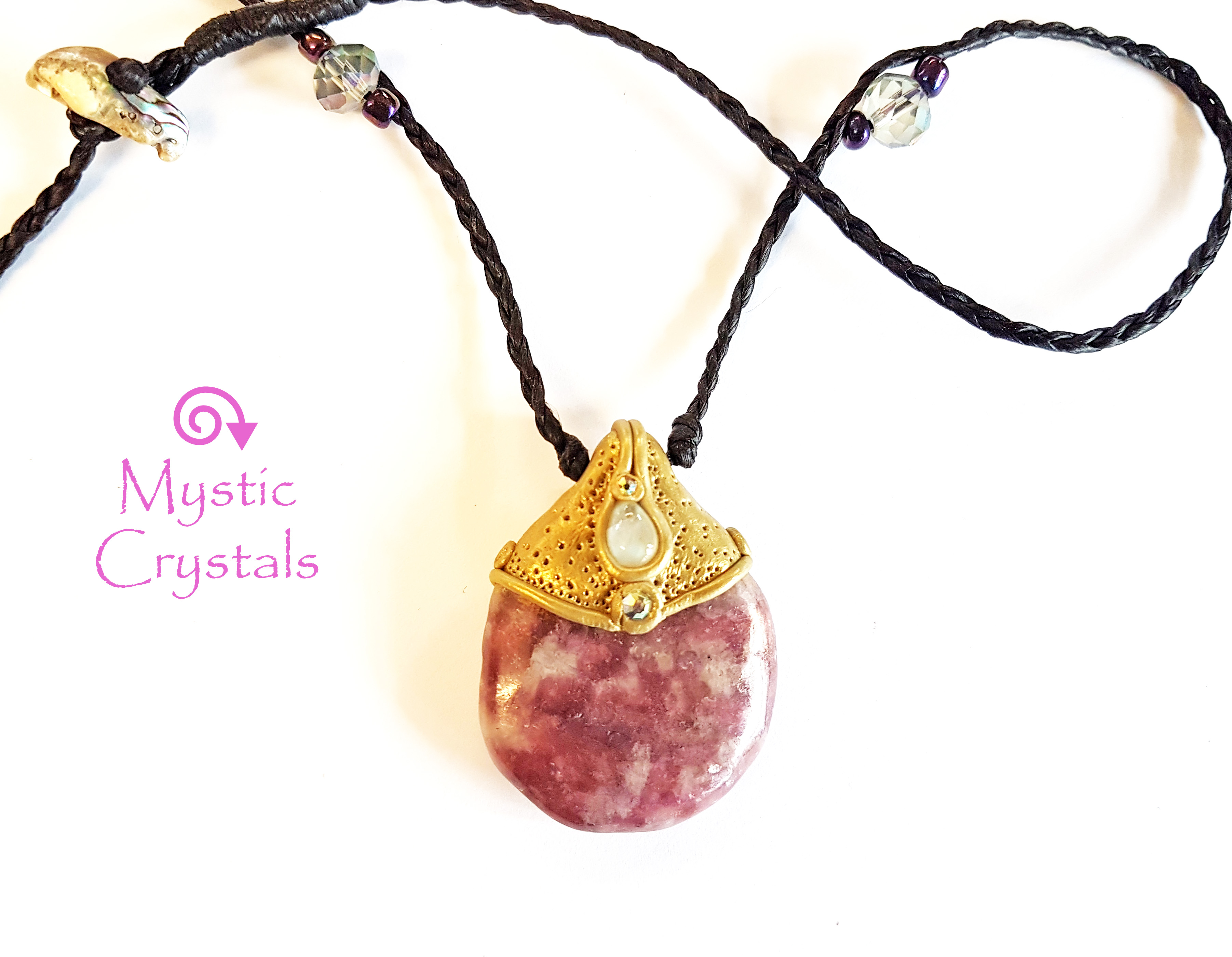 $ 95 NZD
1 Amethyst and Druzy - This magical little piece speaks of inspiration and excitement. She will delve deeper to find the answers within and connect you to your core. Fairy energy surrounds her so expect the unexpected.
Seer of Truth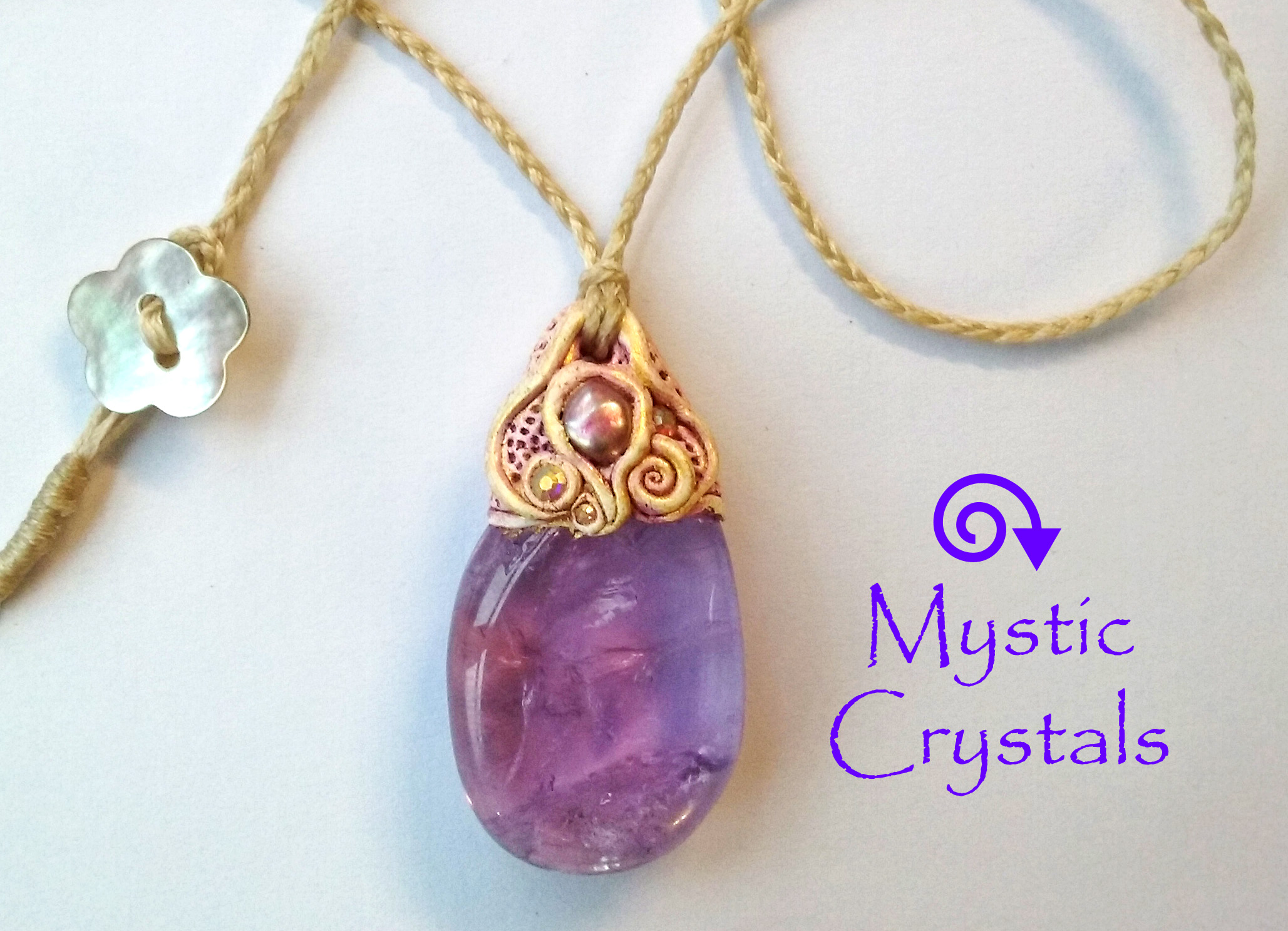 $ 65 NZD
Amethyst - Intuition, trust and faith, seeing things for what they are. Clearer vision and insight. Enhances intuition.
The Star Sorcerer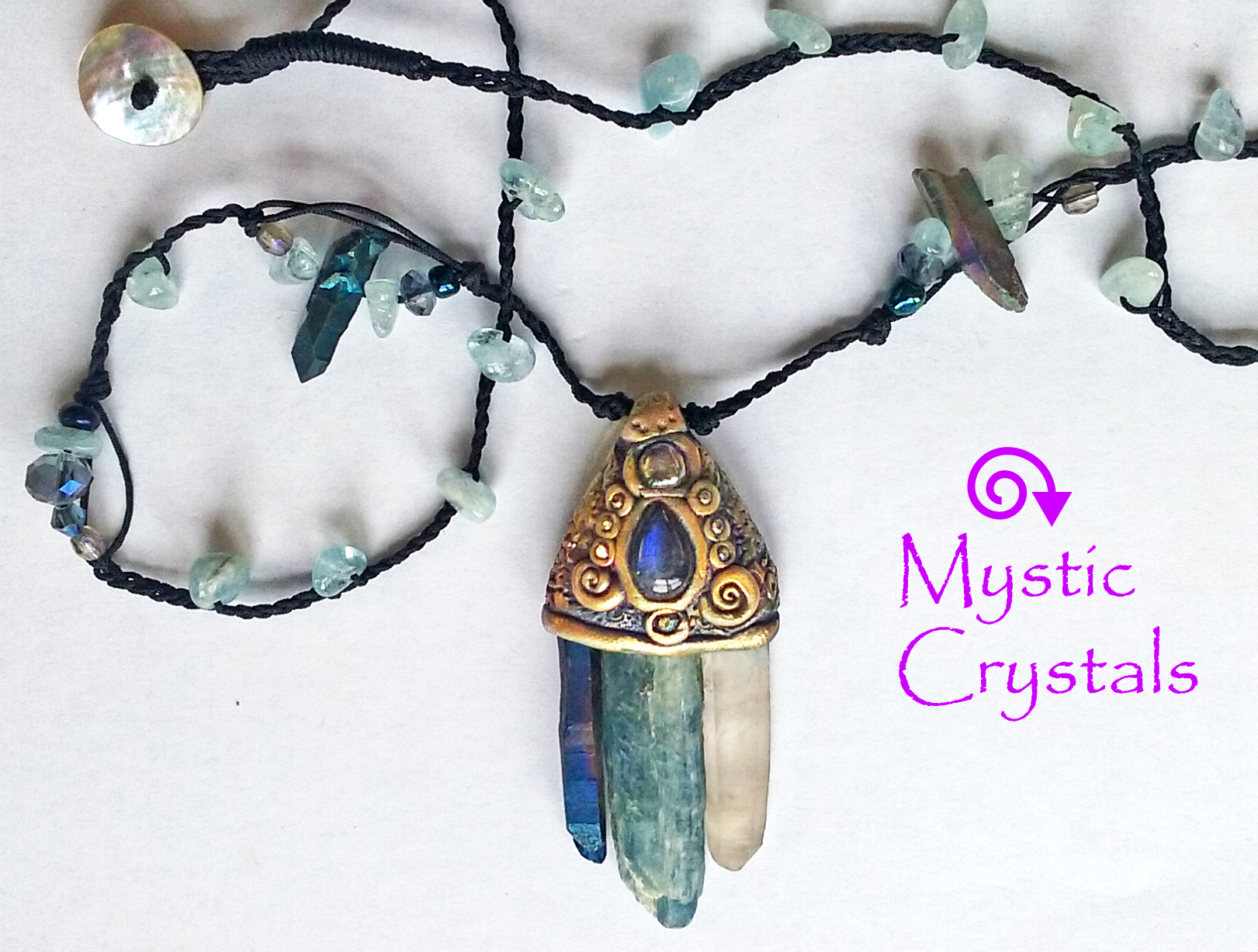 $ 165 NZD
She connects with the stars and the alchemy of the universe. A seeker of truth of the highest degree and a sorcerer to the light. She seeks to bring the magic and mystery of galactic connections to the fore and the sacred knowledge therein. She holds the energy of Star Magic and whoever owns her will know this connection and strengthen it tenfold through her.
Druzy, Kyanite, Quartz & Labradorite
Moon Goddess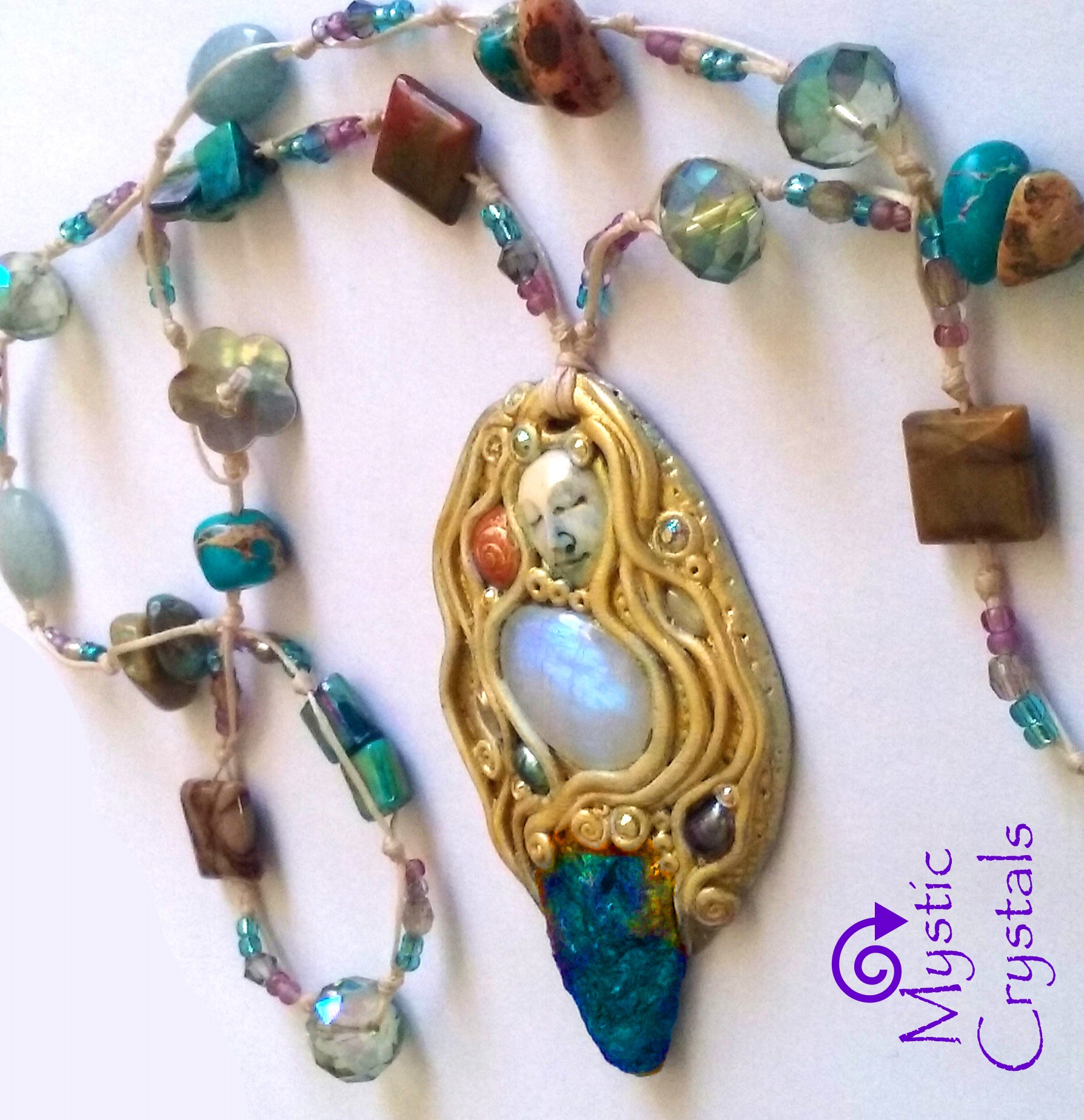 $ 225 NZD
1 Azurite, Moonstone, Bone and Shell - This special piece brings a certain magic to the soul. She is a goddess of the ocean and brings the moon energy to the fore. She will wash away anything that you no longer need in your life in the gentlest way possible and surround you in a bubble of gossamer protection. She holds the light of the moon and the energy of the tides.
Heart Healer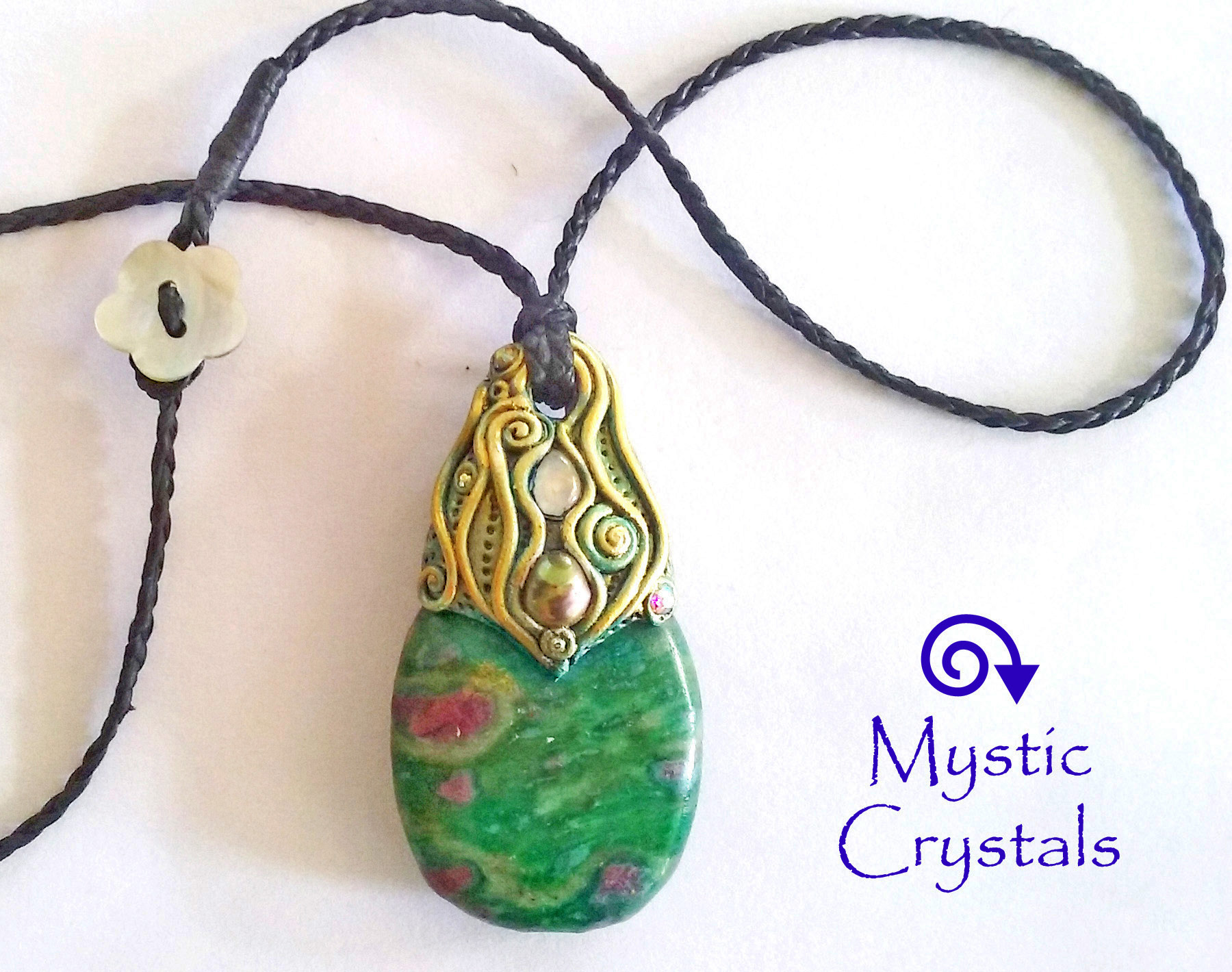 $ 95 NZD
1 Ruby in Fuchsite - Healer of the heart. This perfect combination stone will bring your heart into balance and clear out the emotions of the past leaving you free to open your heart to love again. A strong and powerful stone she will bring you more desirable and heartfelt connections with others.
Goddess Within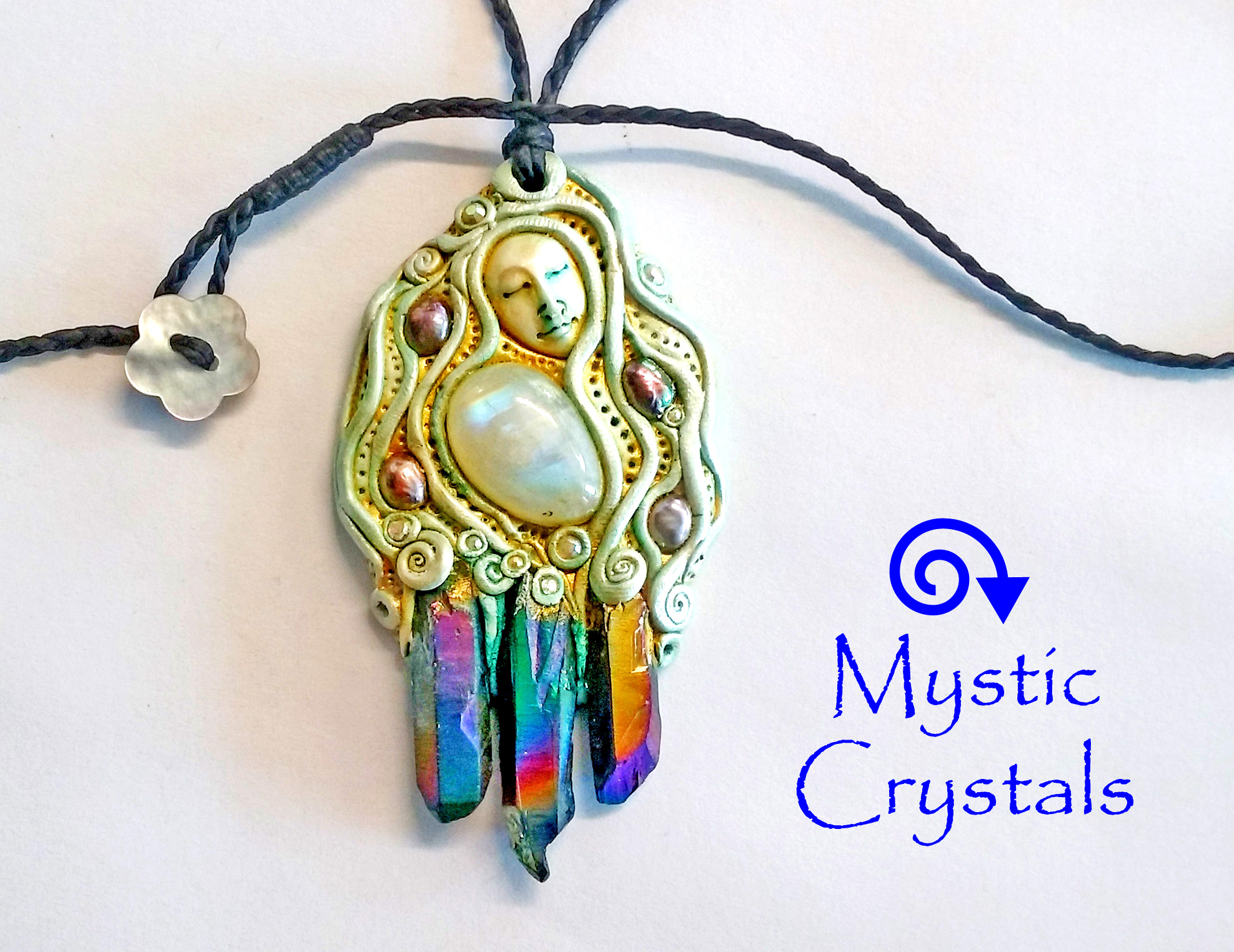 $ 195 NZD
1 Druzy, Moonstone, Bone and Pearl - This piece has a very nourishing, sensual, deeply feminine energy that knows how to heal and bring you back to wholeness. She will help you with birthing new things and connect you with the magical energies of the moon and the sacred feminine.
Gypsys Talisman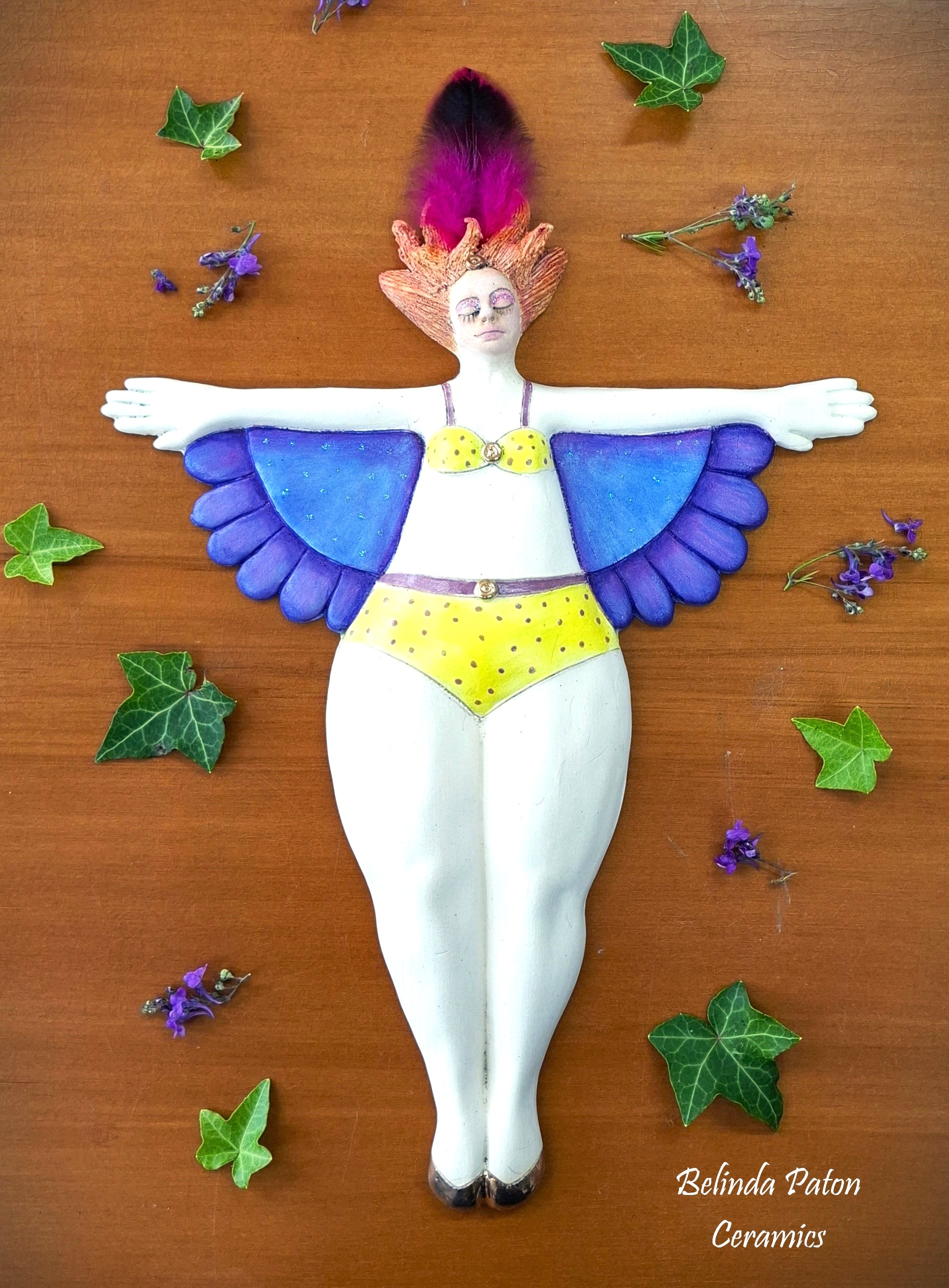 $ 165 NZD
1 Sodalite, Azurite and Turquoise - Beautiful Gypsy energy exudes from this lovely piece. Intuition, insight and magic. This is the psychics Amulet as it brings with it an opening of the third eye and communication from spirit.
The Shaman Healer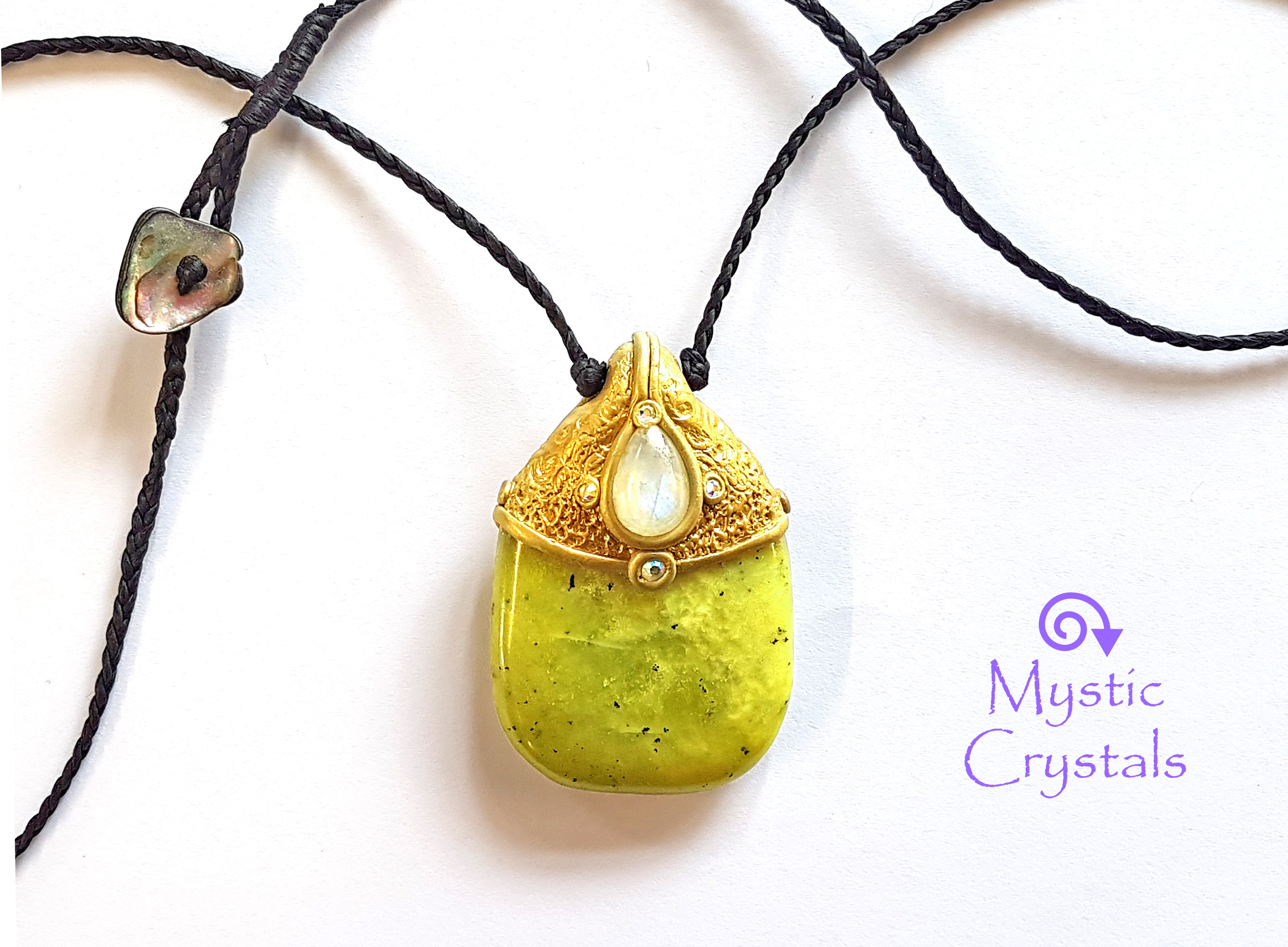 $ 86 NZD
1 Azurite, Turquoise, Freshwater Pearl - Azurites energy stimulates the Third Eye Chakra in awakening the psychic and intuitive self, and in opening the mind to spiritual guidance. It provides insight into all areas of our lives. Enhances communication and healing abilities.
Egyptian Amulet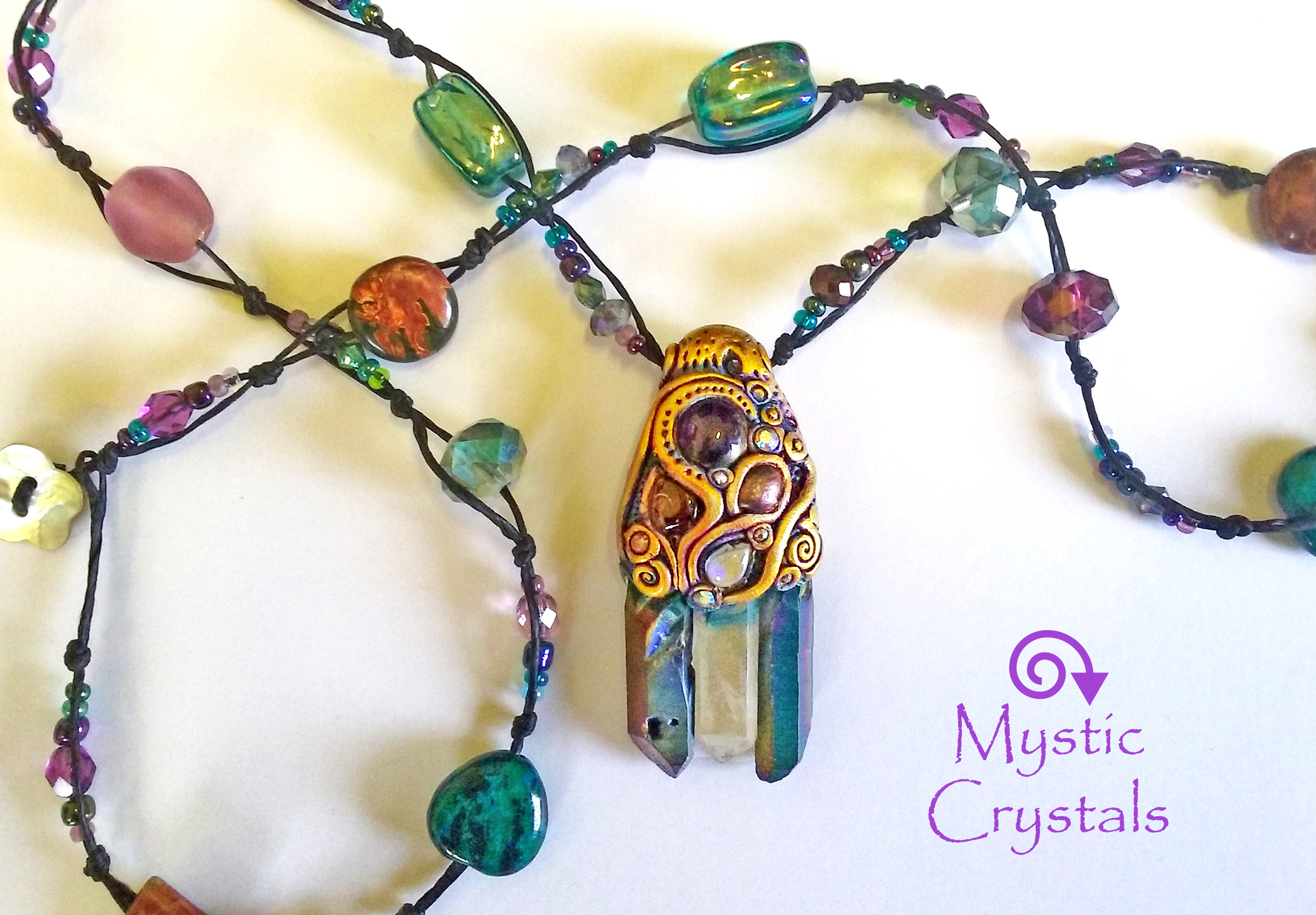 $ 115 NZD
1 Sodalite, Freshwater Pearl and Garnet - This piece holds an ancient Egyptian energy. She speaks of the mysteries and potent healing of the ages. On a physical level any problems concerning the throat or communication she will help you with and heal.
Dream Catcher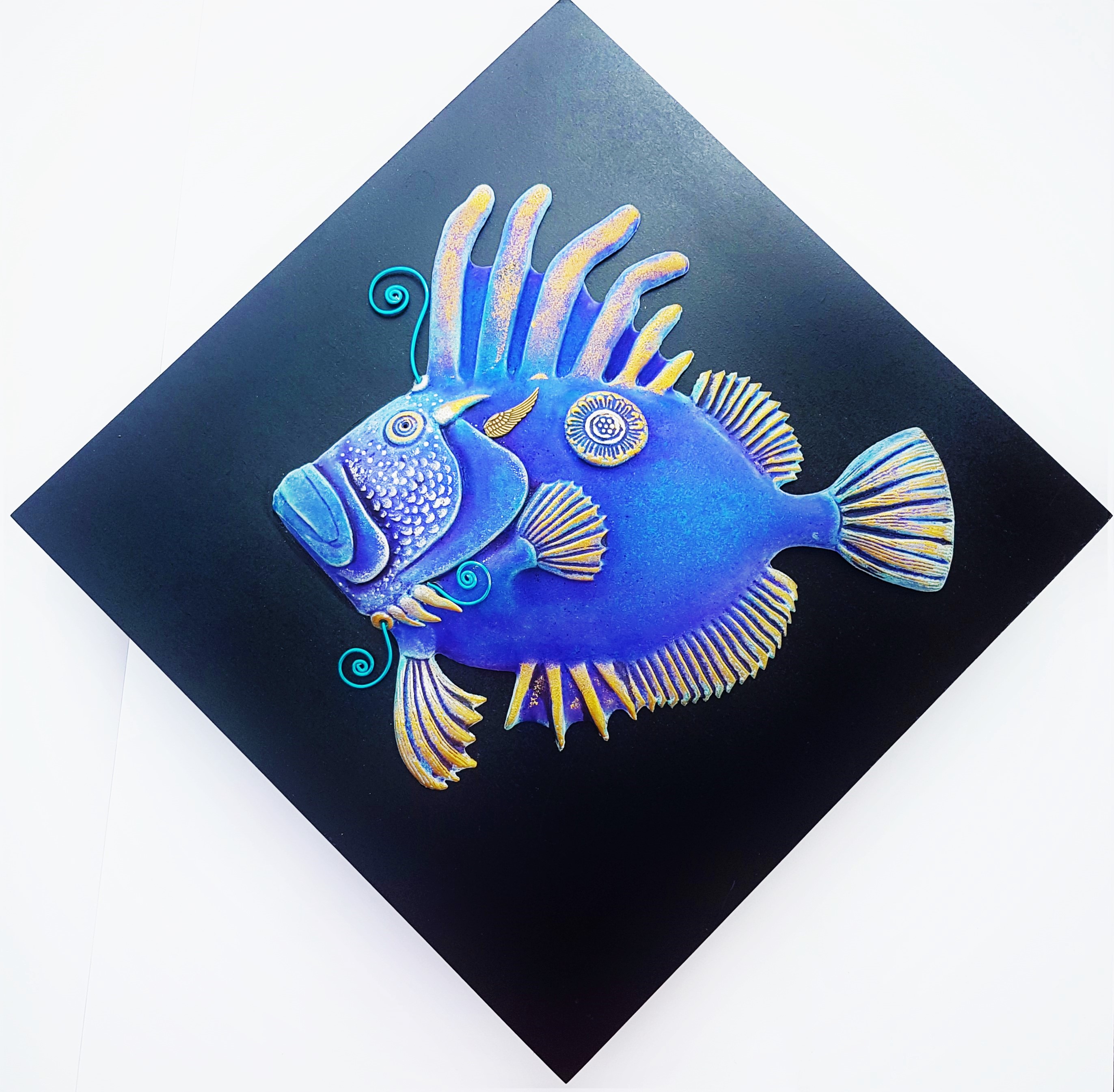 $ 75 NZD
1 Prehnite and Freshwater Pearl - Prehnite alleviates nightmares, phobias and deep fears, uncovering and healing the dis-ease that creates them. It is a stone for dreaming and remembering.
The Goddess of Harmony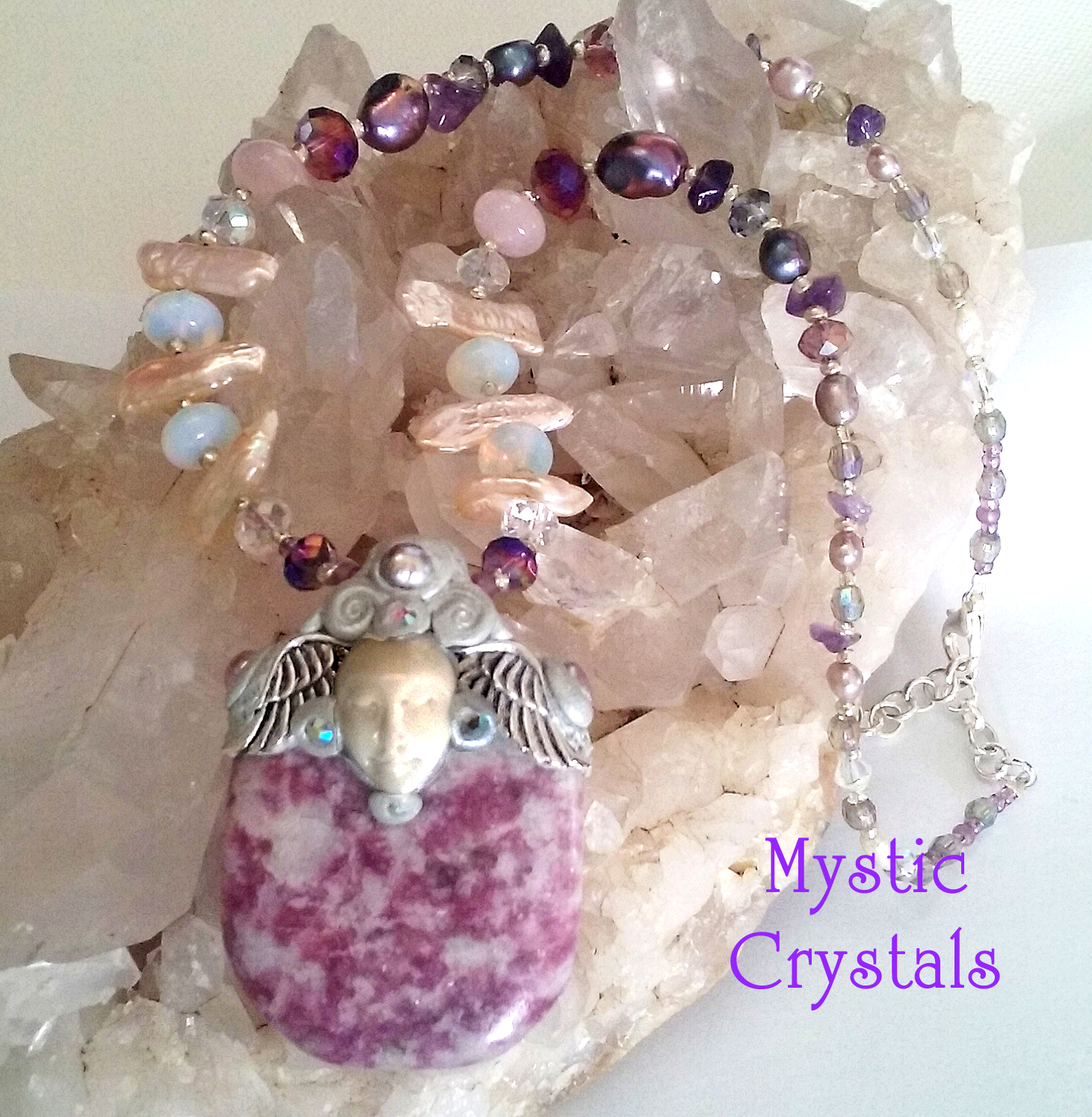 $ 115 NZD
Lepidolite, Bone Freshwater Pearl - This beautiful piece exudes the gorgeous tranquil energies of peace, hope and acceptance. She shows one how to cope with stressful situations by using calmness as a tool and brings a sense of inner peace to the fore. Bringing help with transitions, she shifts and restructures old energy patterns to flow more effectively and brings light and hope to a situation.
The Mystic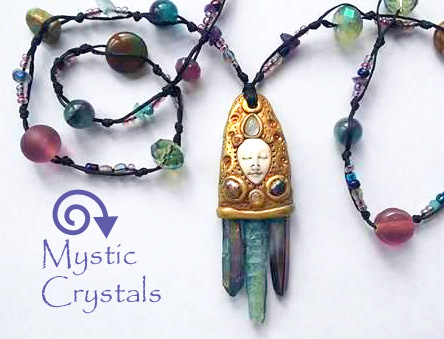 $ 195 NZD
Kyanite, Titanuim Druzy, Moonstone - A stunning piece, this one holds the energy of the ancient mystics! Powerful transformation and magic she is a piece to help you transform.
Love Amulet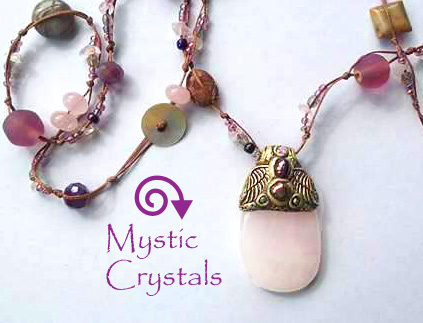 $ 115 NZD
Rose Quartz, Pearl Garnet - The stone of love. Opens the heart and softens the energy. Brings the right connections to your door and wraps you in the wings of contentment.
Power Within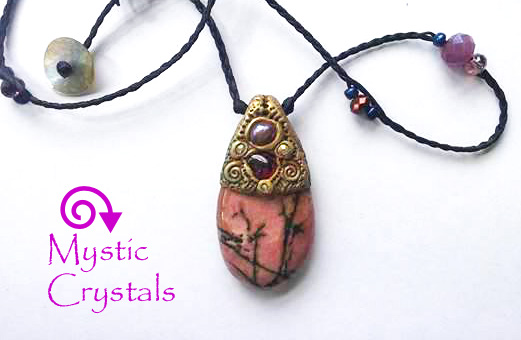 $ 65 NZD
Rhodonite – Disapates anger and calms stress and anxiety. Connects you with your inner power to be used in more balanced ways. Balances and calms the emotions. Healing for the soul.
The Keeper of Secrets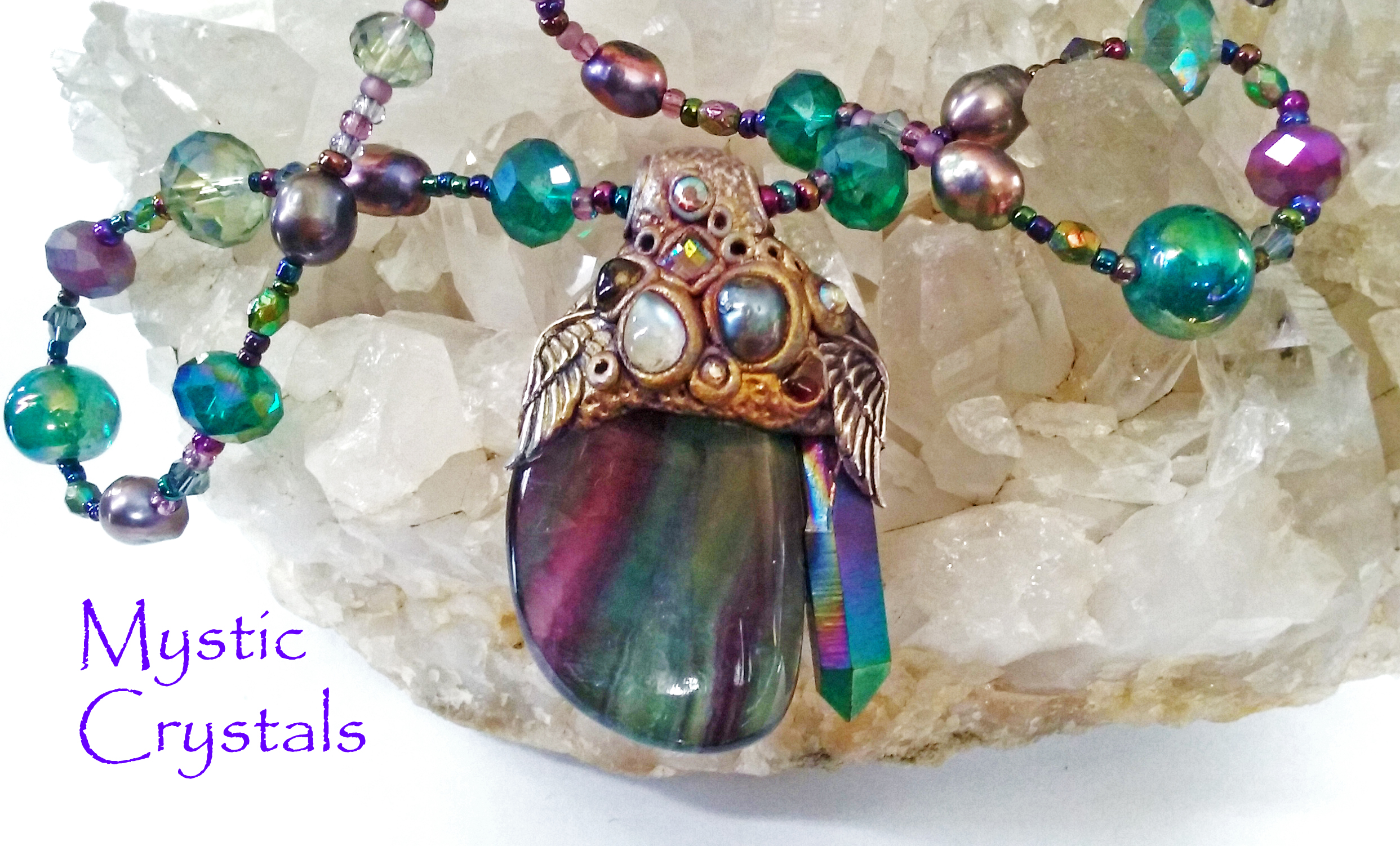 $ 95 NZD
Fluorite, Druzy and Moonstone - An enchanting piece connecting with the energies of Avalon. She brings secrets that are only for you and her mystical energies will help you to delve deep into the energies of the past. Fluorite is a highly protective stone which will allow you to journey with safety and learn the mysteries that await you.
Stone of Truth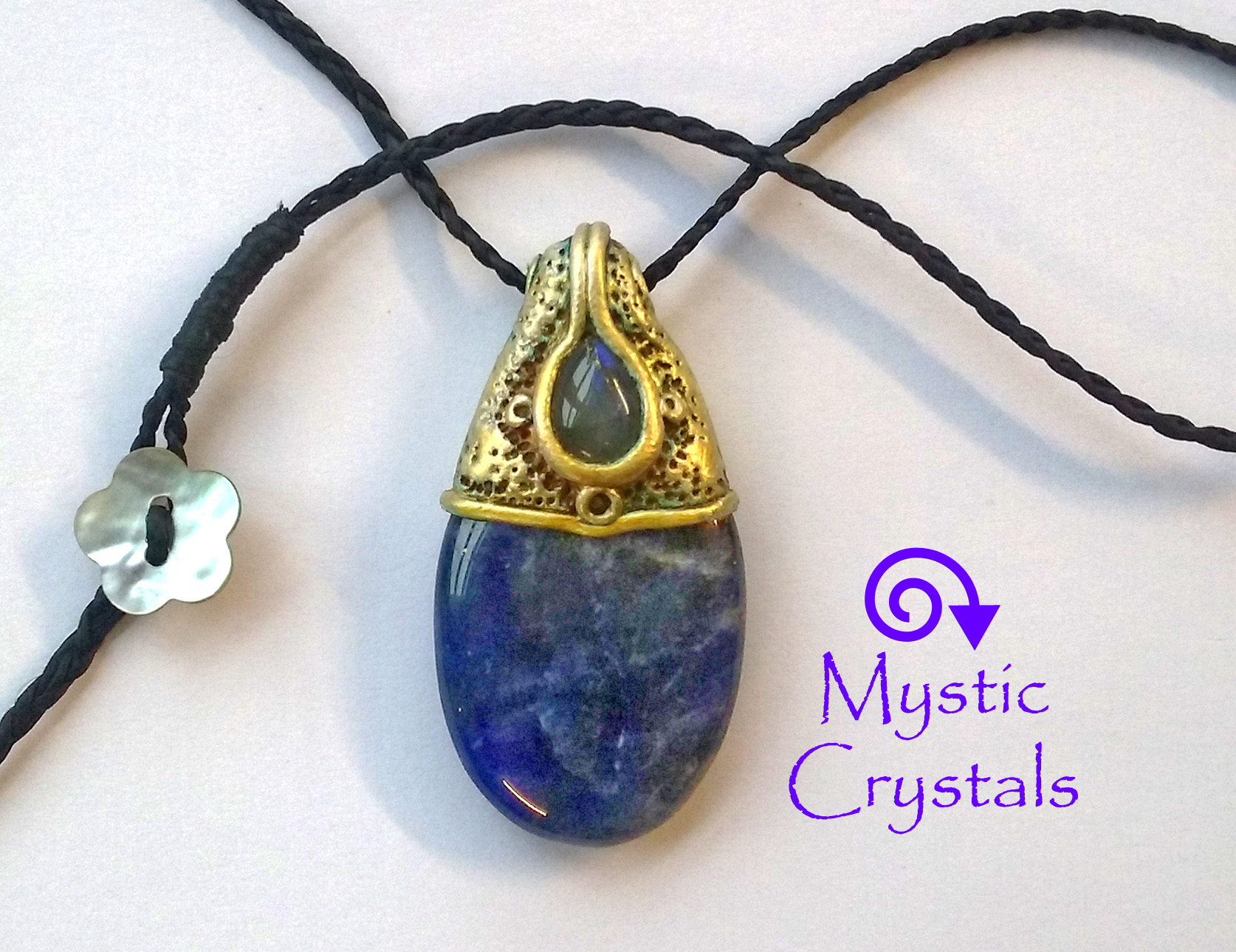 $ 55 NZD
Sodalite speaks of Truth and clear communications. A great stone to wear if you need to enhance your communication skills
Amulets for Men
Amulets for men are now available by special order. If you would like to order one please let me know what stone you would like or if you are unsure I can give you some options to choose from and we can work together to create the perfect piece for you.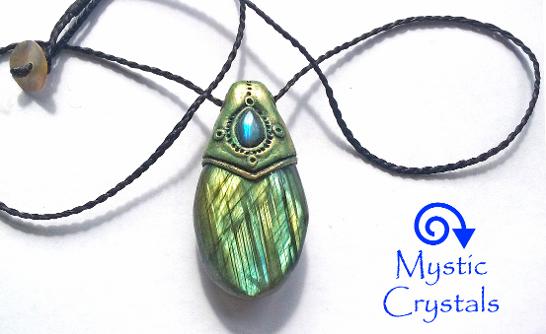 Mens Amulet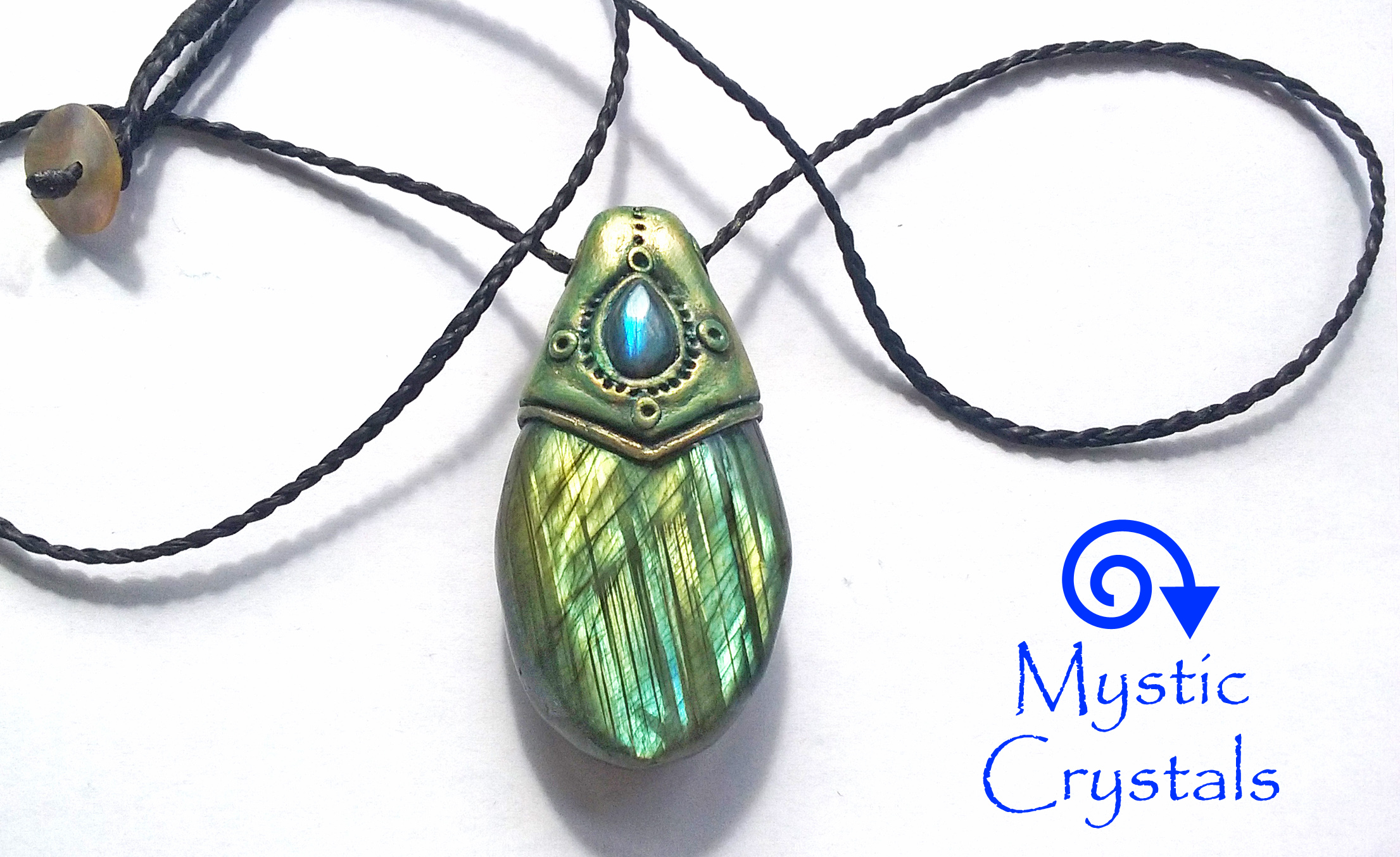 $ 125 NZD
Past Creations
If you would like something similar to any of my "past creations" please let me know
Click thumbnails to see larger images.