Mystic Crystals
Sacred Crystal Creations
Amulets, Talismans & Magical Tools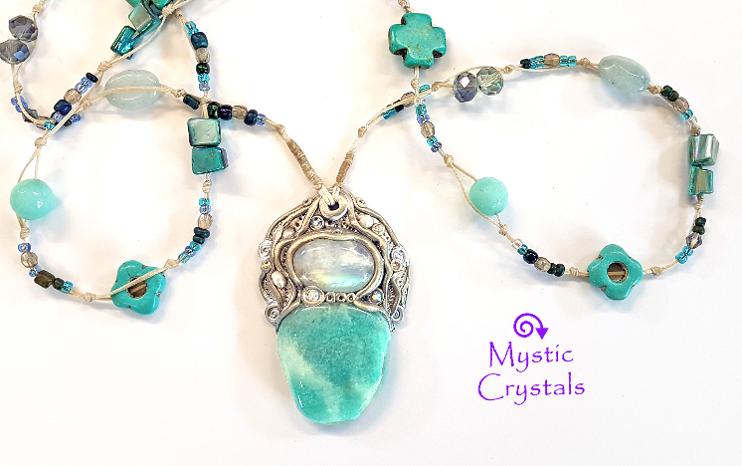 Each of these pieces has been individually "Handmade with Love" using the gifts of
"Mother Earth" and the "Healing Powers" of crystals.
One off pieces can also be made to order especially for you or as a special gift!
Gift Vouchers are also available here...
Lady of the lake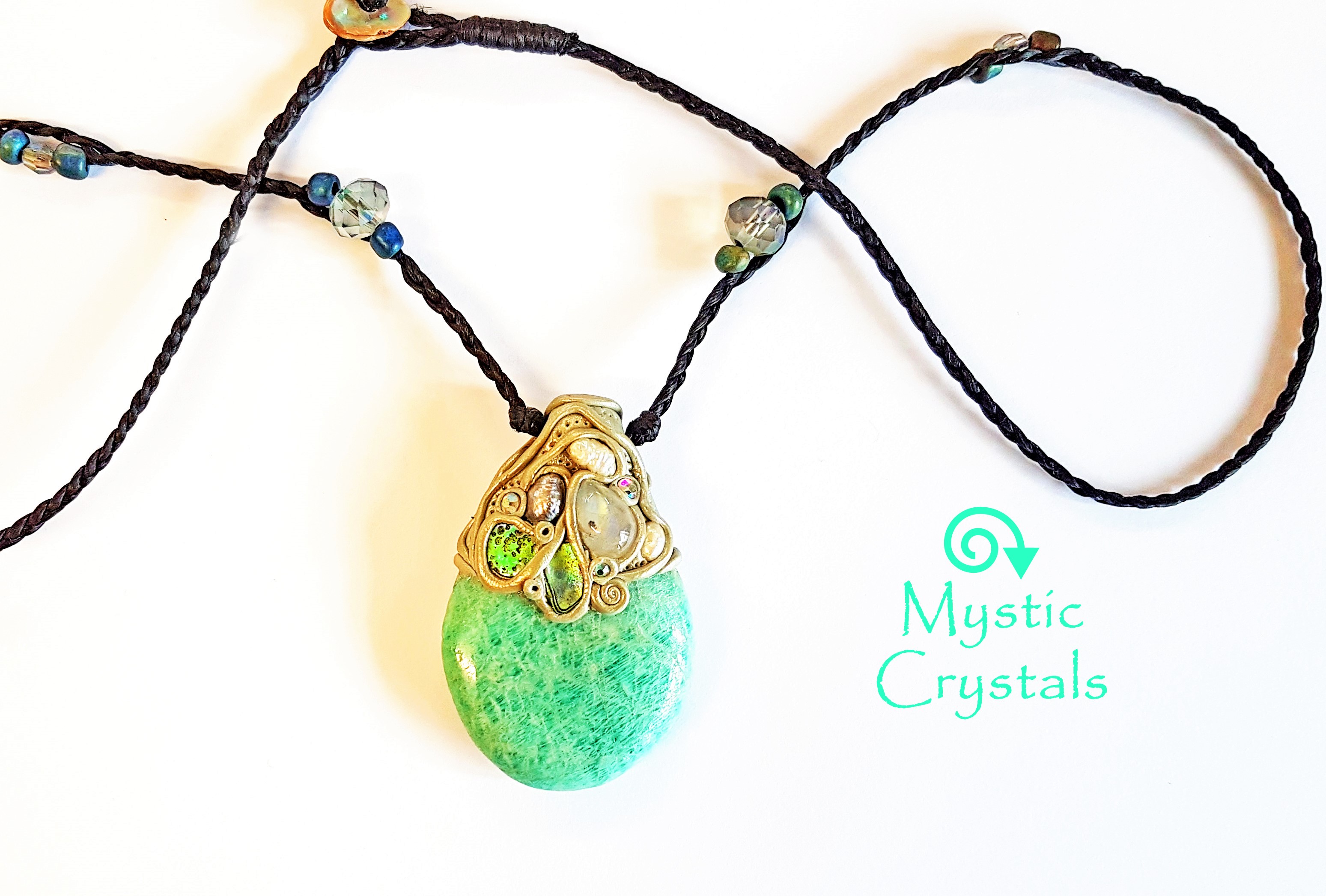 $ 155 NZD
Amazonite - Moonstone - Pearl – Paua. Amazonite is a soothing stone. It calms the mind and nervous system with its fluid energy and works on the throat chakra to help promote loving and open communication. Often called the Stone of Courage or the Stone of Truth it helps you to "Go with the flow" and follow your truth in the direction that you desire and trust that all will work out perfectly. Pendant length 5cm, necklace length 55cm.
Love Spell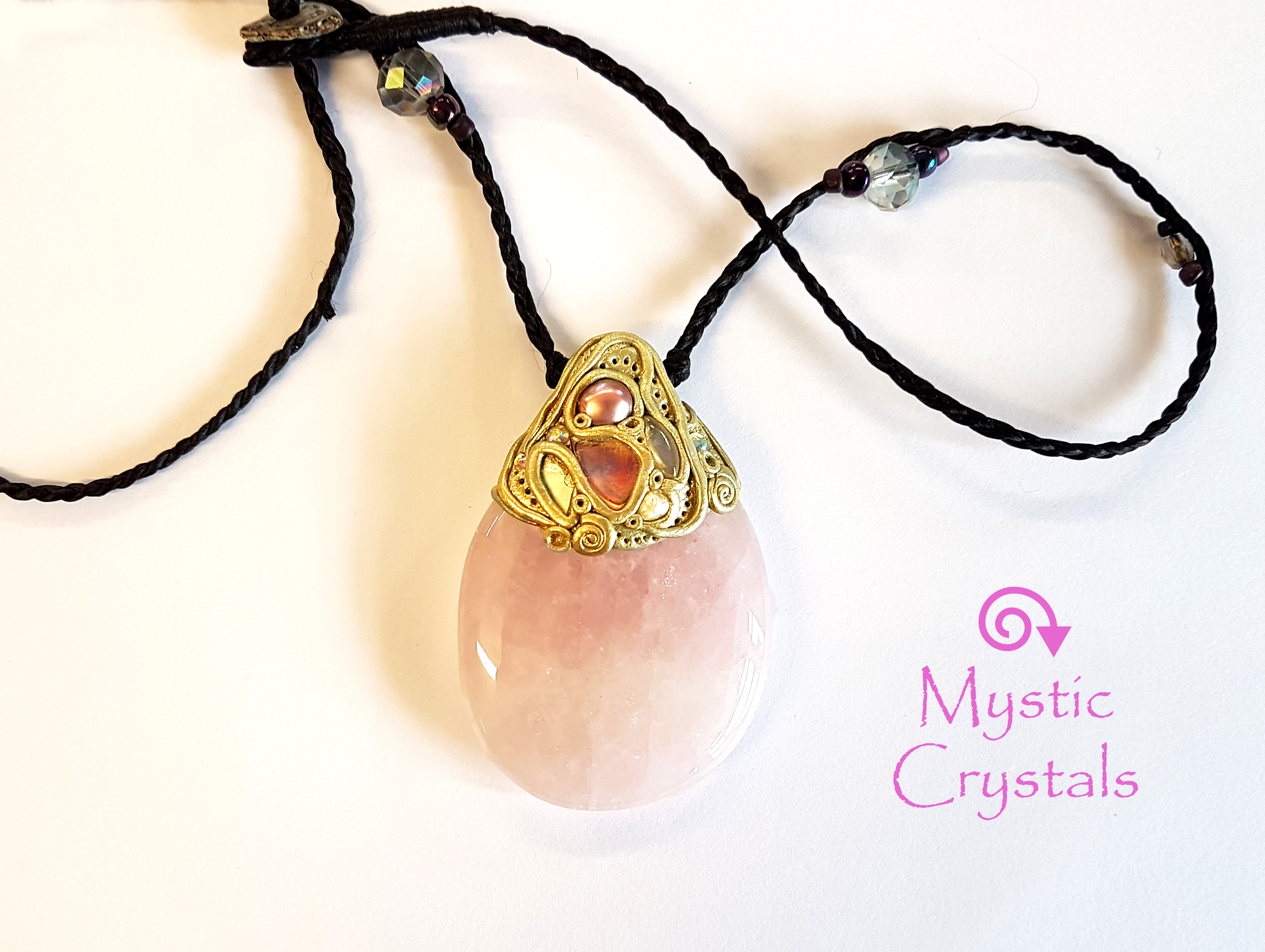 $ 165 NZD
Rose Quartz, Moonstone, Pearl, NZ Paua - This stunning piece features a beautiful rose quartz which will help to open your heart to love on all levels. She will heal the heart of past hurts so you can attract more positive and nurturing experiences into your life. This beautiful stone emanates the energy of deep deep love and like attracts like so be on the lookout for your one true love. Pendant length 5.5cm, necklace length 49cm.
Light the Way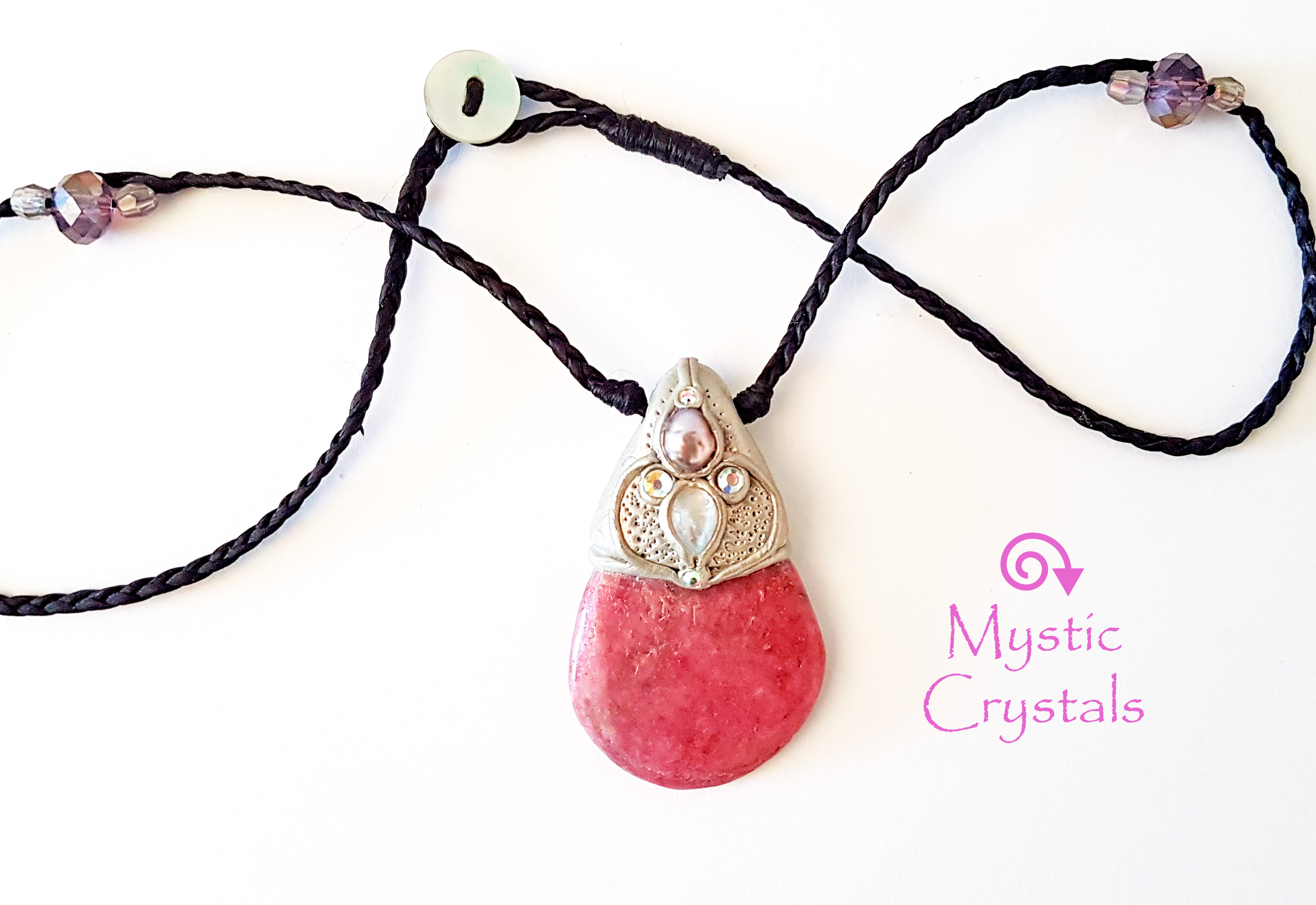 $ 110 NZD
Rhodonite, Moonstone, Freshwater Pearl.- This very pretty piece will help you to clear away emotional wounds from the past and bring a sense of joy and happiness in. She will heal the heart and help one to move forward in achieving one's highest potential in life and fulfilling ones dreams. Pendant 4.5cm long, necklace length 42cm
Seer of Truth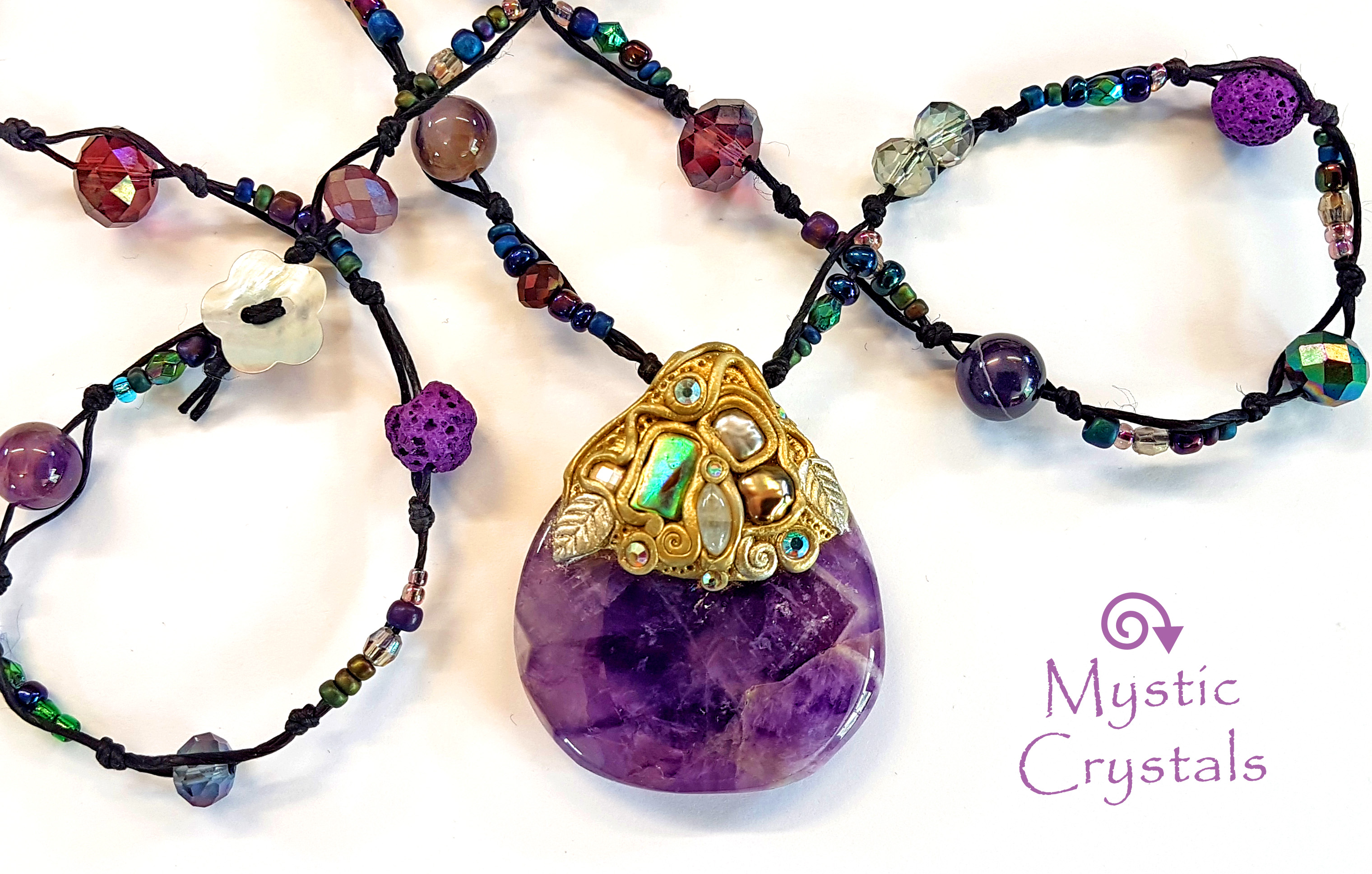 $ 185 NZD
Chevron Amethyst is one of the most powerful forms of Amethyst and is used for developing higher psychic powers and to enhance healing abilities. It will help one to connect with their higher guides and soul purpose in this lifetime for vision and clarity.
Song of Avalon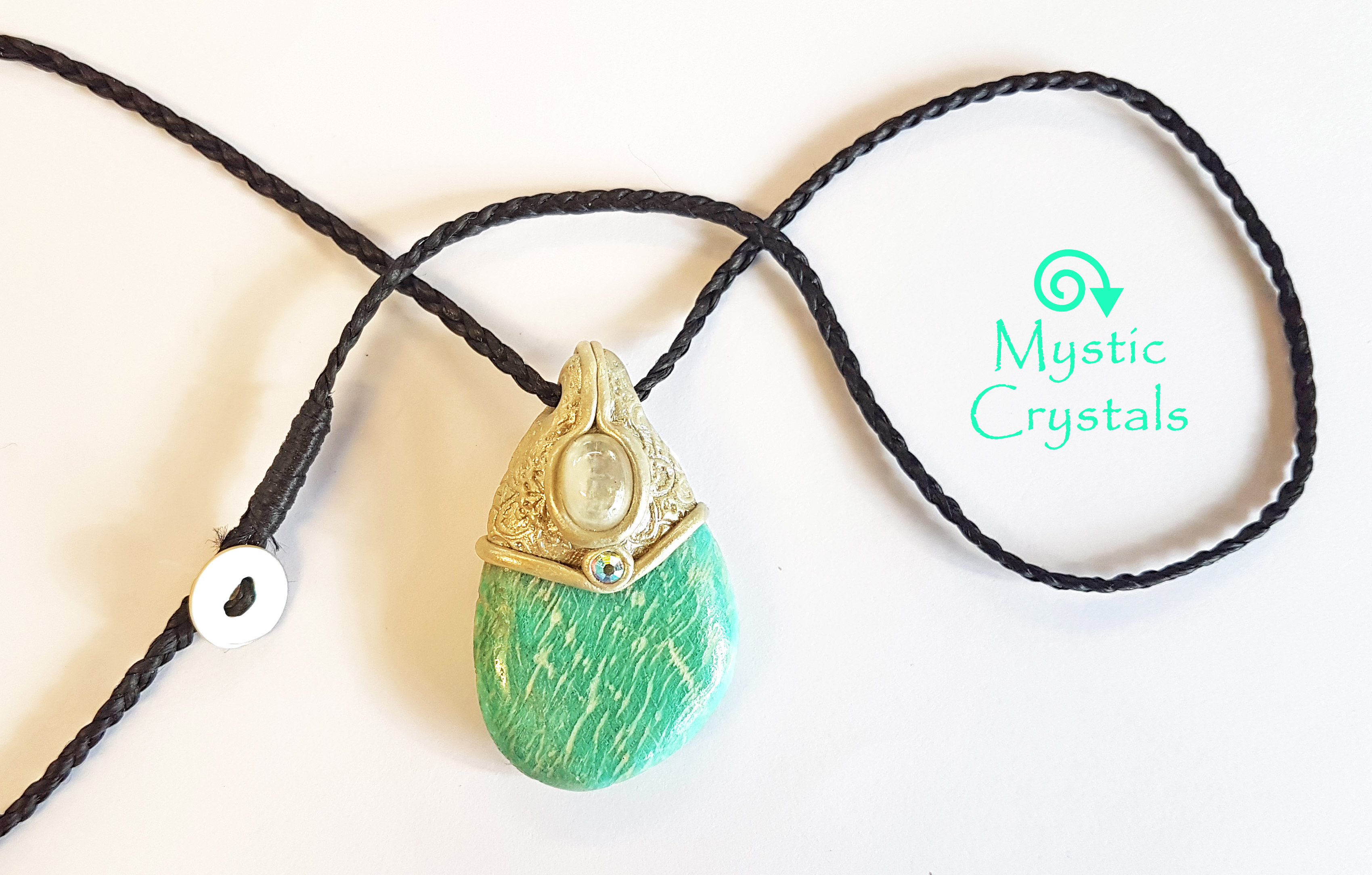 $ 65 NZD
Amazonite – Moonstone. She connects with the moon and the divine feminine and soothes the emotions and the auric field with her fluid energy. She will help one to stay balanced and calm and dispel moon swings and negativity. She will also clear the throat chakra to enhance loving and clear communication. Pendant length 4.5cm, necklace length 52cm.
Dream Weaver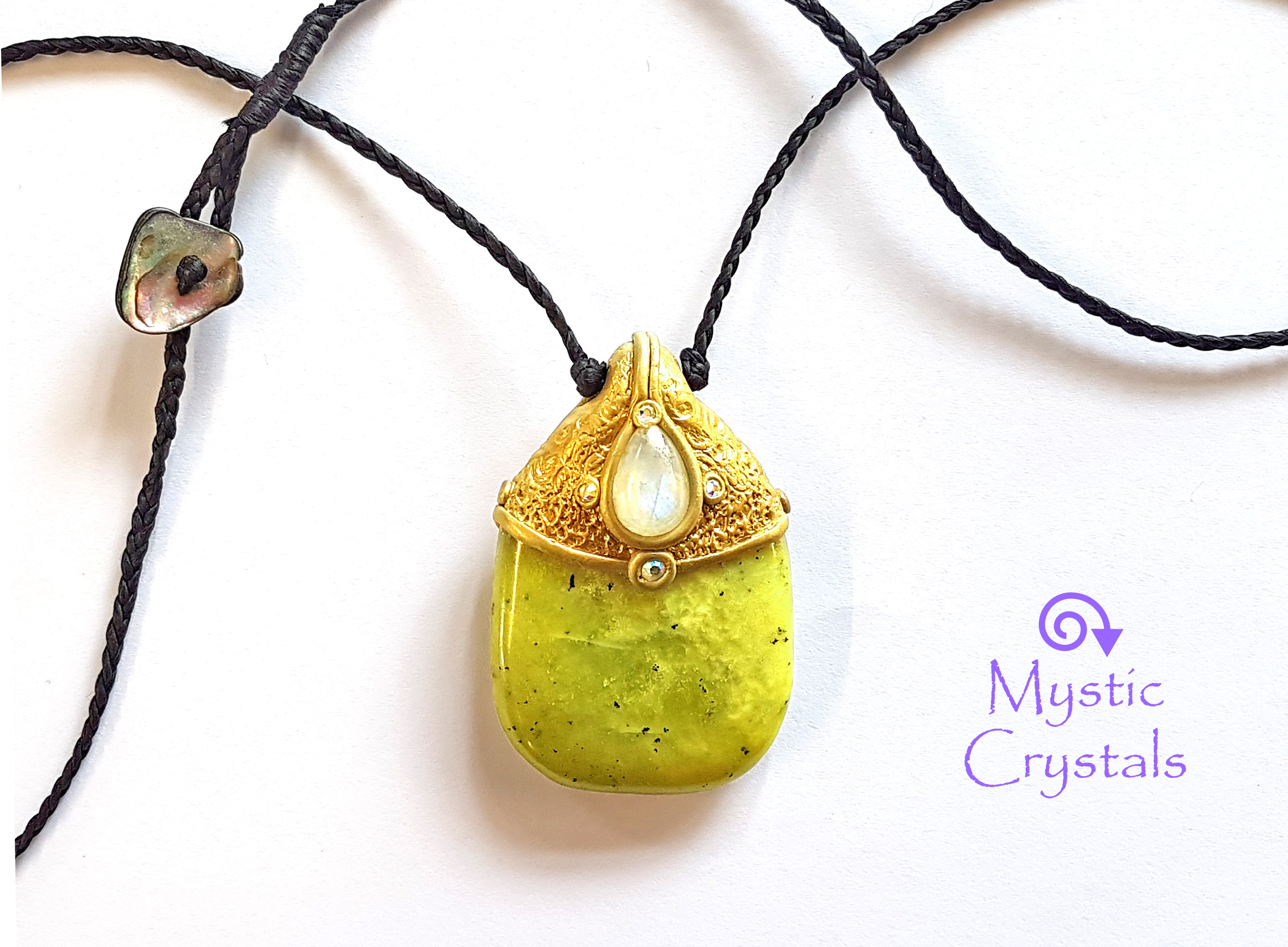 $ 135 NZD
Lemon serpentine revitalizes the spirit and propels your inner growth. This beautiful lime green crystal guides you to shed any old, unwanted energy to make room for transformation, rebirth and growth across all areas of your life. She is a powerful crystal to support manifestation of your dreams, as well as your overall energetic wellbeing. Lemon Serpentine & Moonstone.
The Forest Fairy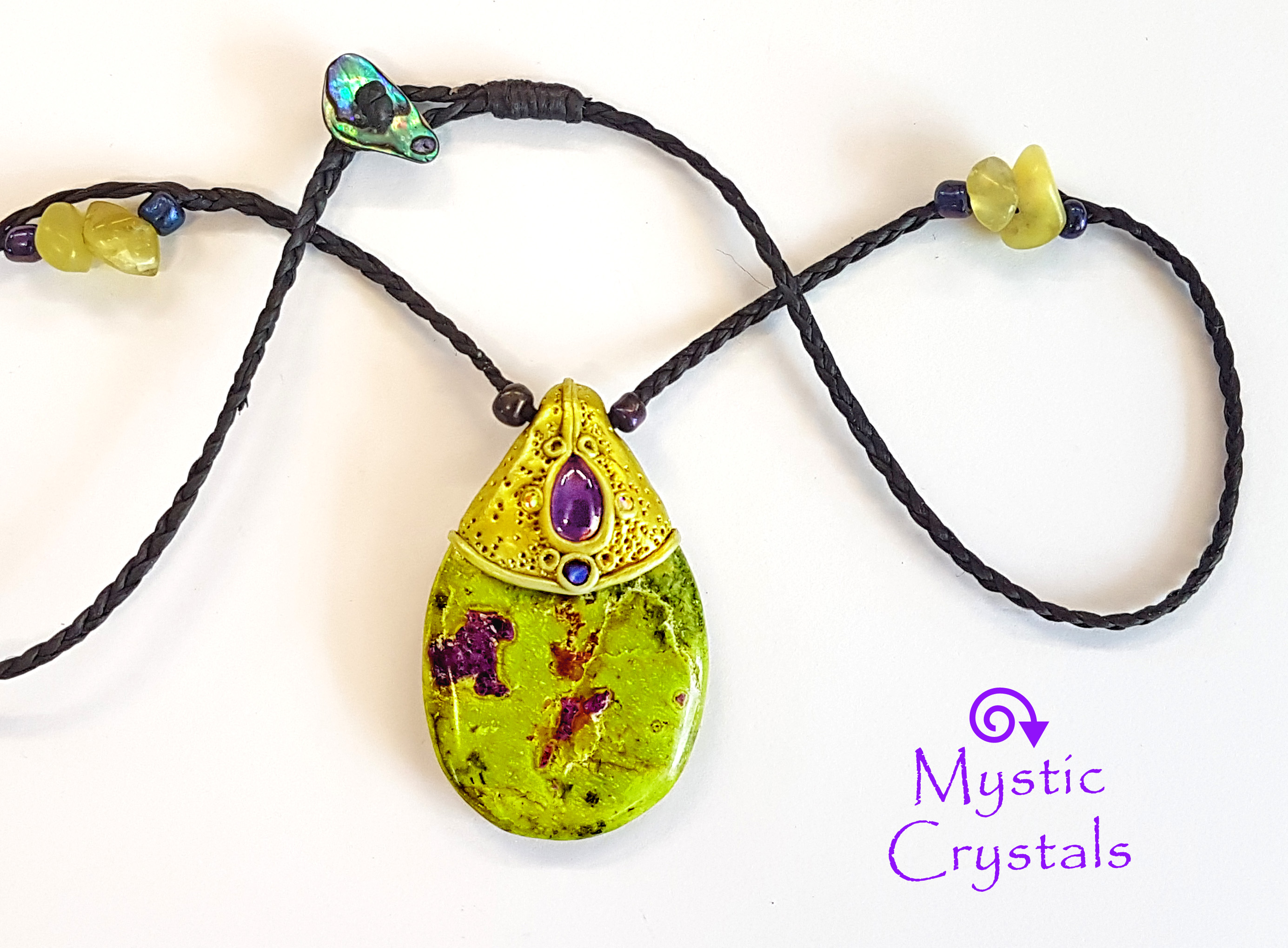 $ 89 NZD
Atlantisite and Amethyst. This stone is a combination of Serpentine and Stichtite. Serpentine assists to soothe the emotional body, release fear of change and helps us to look to the future with a more positive outlook. Stichtite emanates the vibration of rescue, recovery and forgiveness and promotes compassion for others who might have hurt you.Helps to heal unresolved issues and emotional trauma. Together they will help you to release the past and move confidently into a more positive future!
Dream Keeper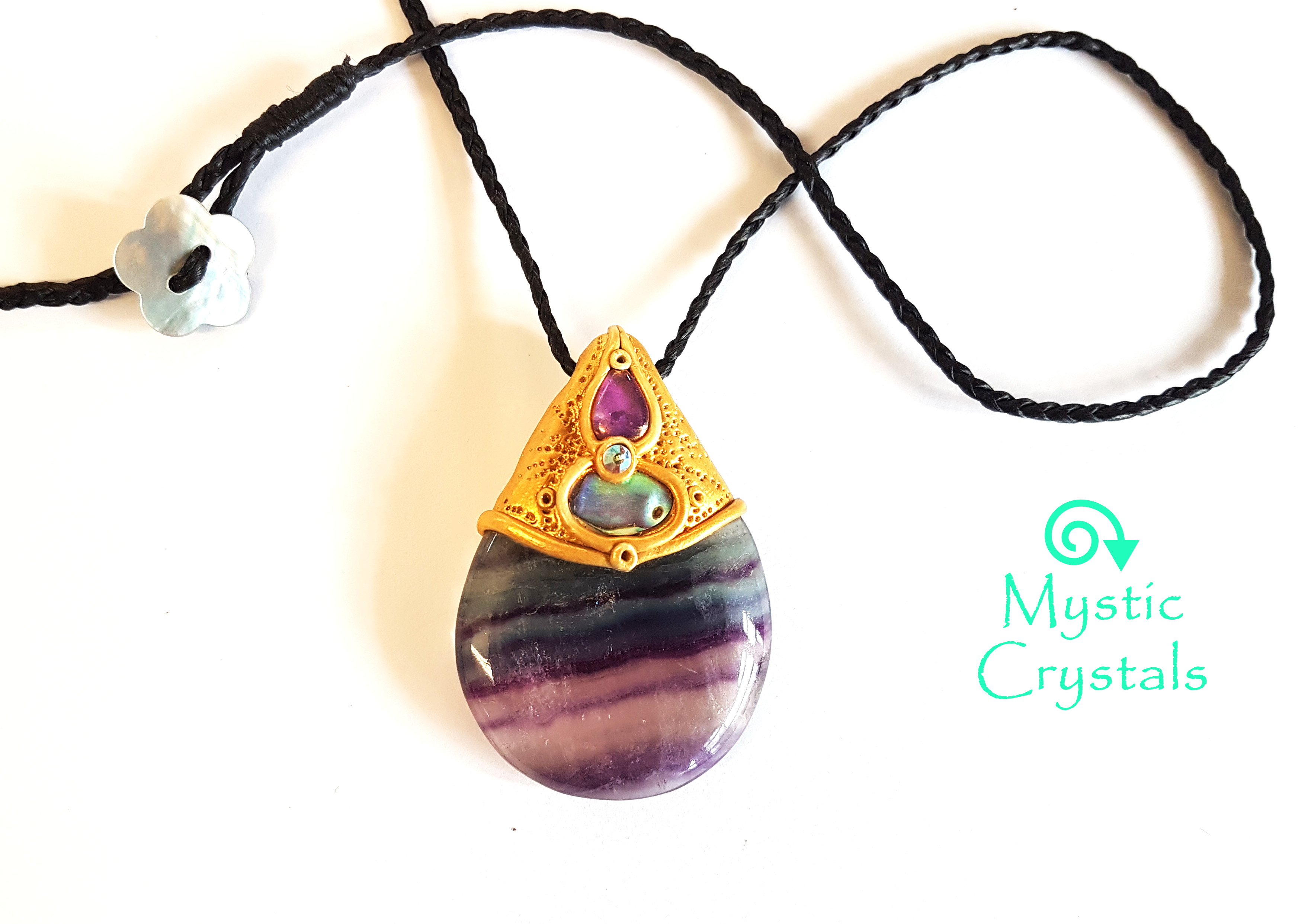 $ 95 NZD
Fluorite, Amethyst, NZ Paua. This beautiful piece speaks of the secrets of the Akashic records and takes us on a journey into the unknown to explore our higher purpose and ancient wisdom. She seeks to enlighten us on our path and re-connect us to our inner sacred knowledge. She is the keeper of forgotten dreams and life purposes and now is the time to access them and bring it to the light. Pendant length 5cm, necklace length 54cm
Aztec Sun Totem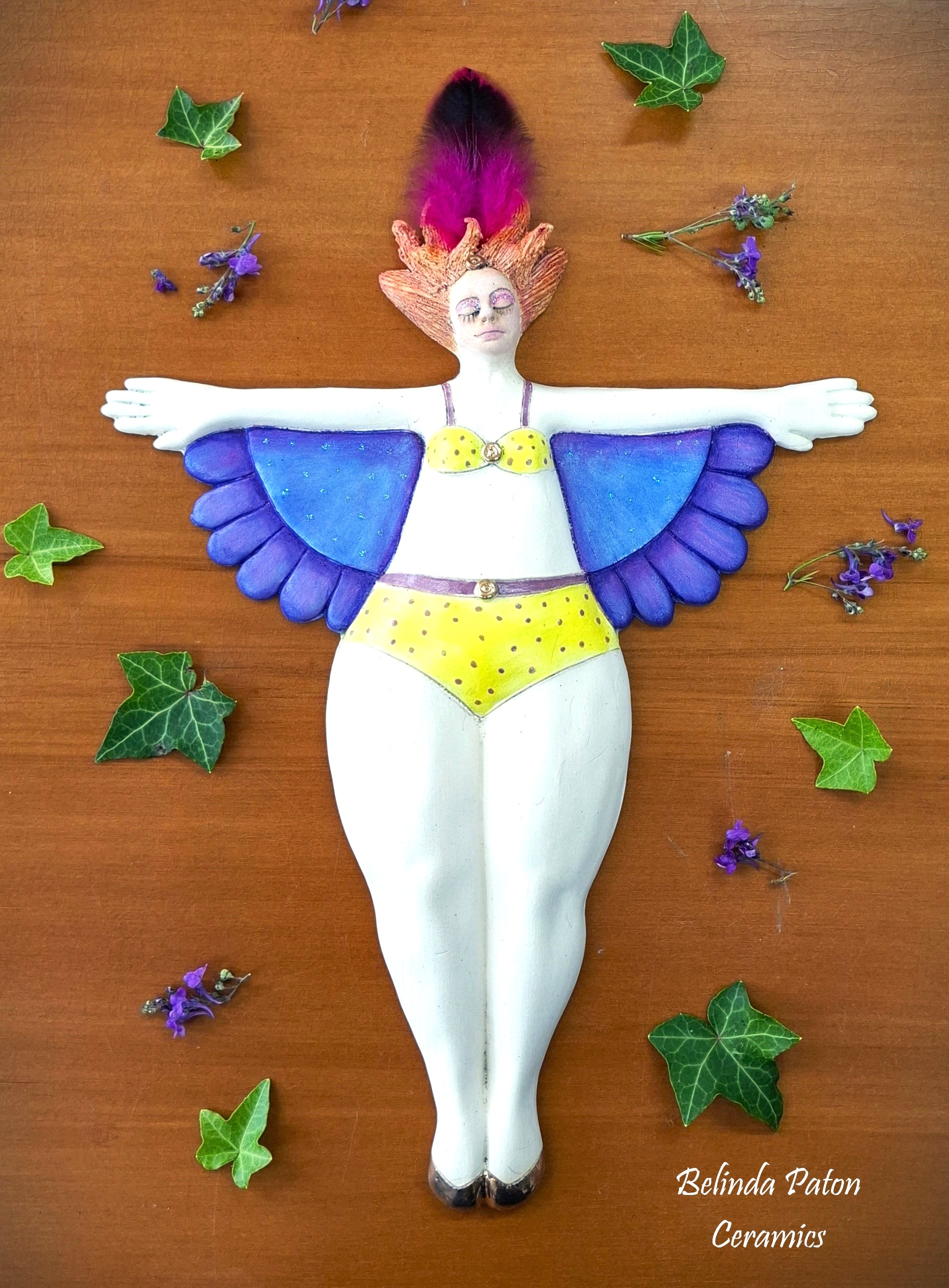 $ 125 NZD
This is a powerful piece!! ….. Amethyst, Coral, Moonstone and freshwater pearls. This piece brings with it the energy of protection and power. She will keep you grounded as well as connecting you to spiritual guidance. She is a leader and teacher of the highest degree and will help you to step into those roles here on the earth plane, helping you to speak with clarity and confidence.
The Forest Queen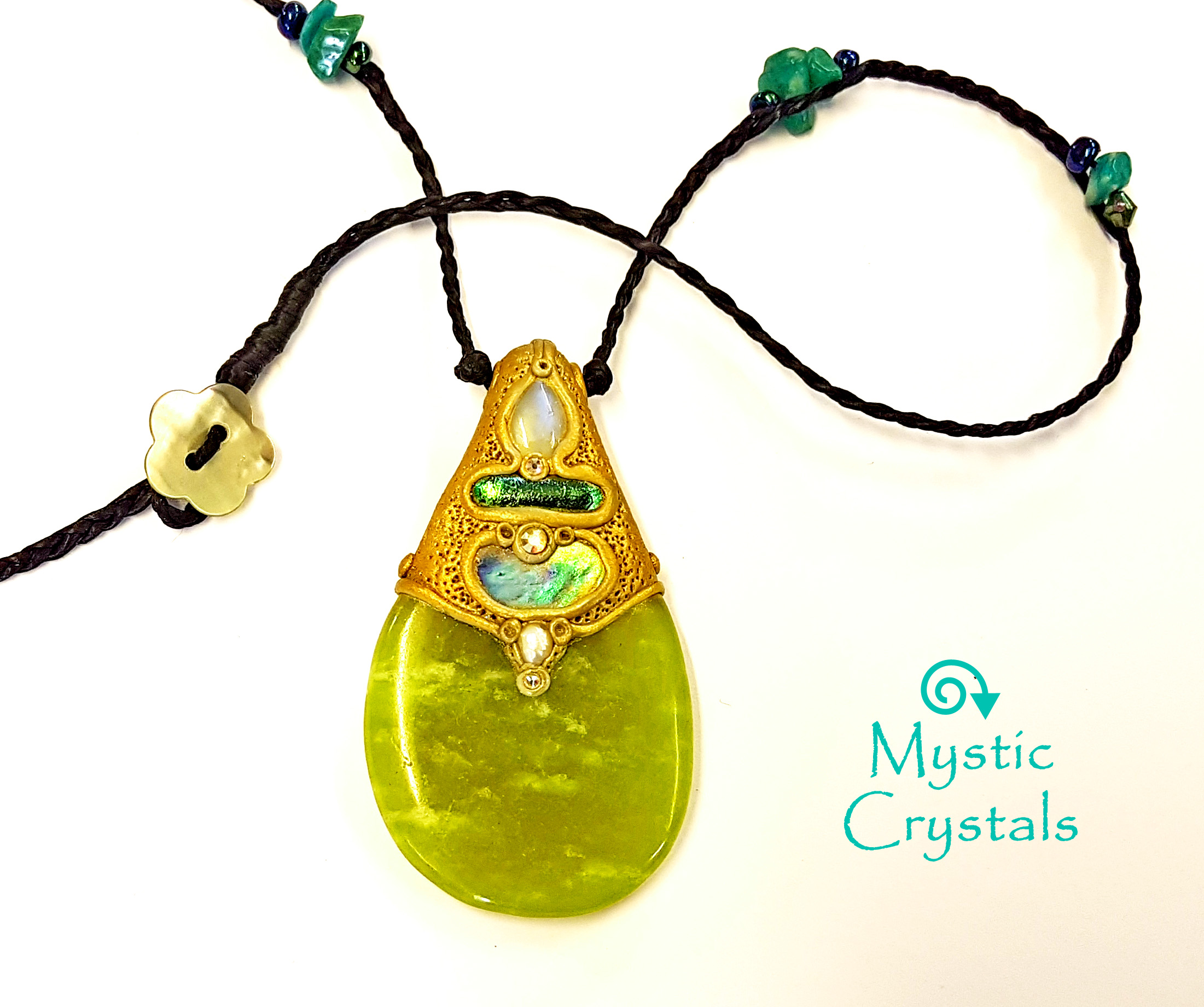 $ 140 NZD
Green Calcite, Paua, Moonstone. Green Calcite is a powerful amplifier and energy cleanser, removing negativity and releasing energy blockages that prevent personal growth. Green Calcite brings a renewed sense of purpose and vitality and a desire to make positive change in ones life.
Creative Soul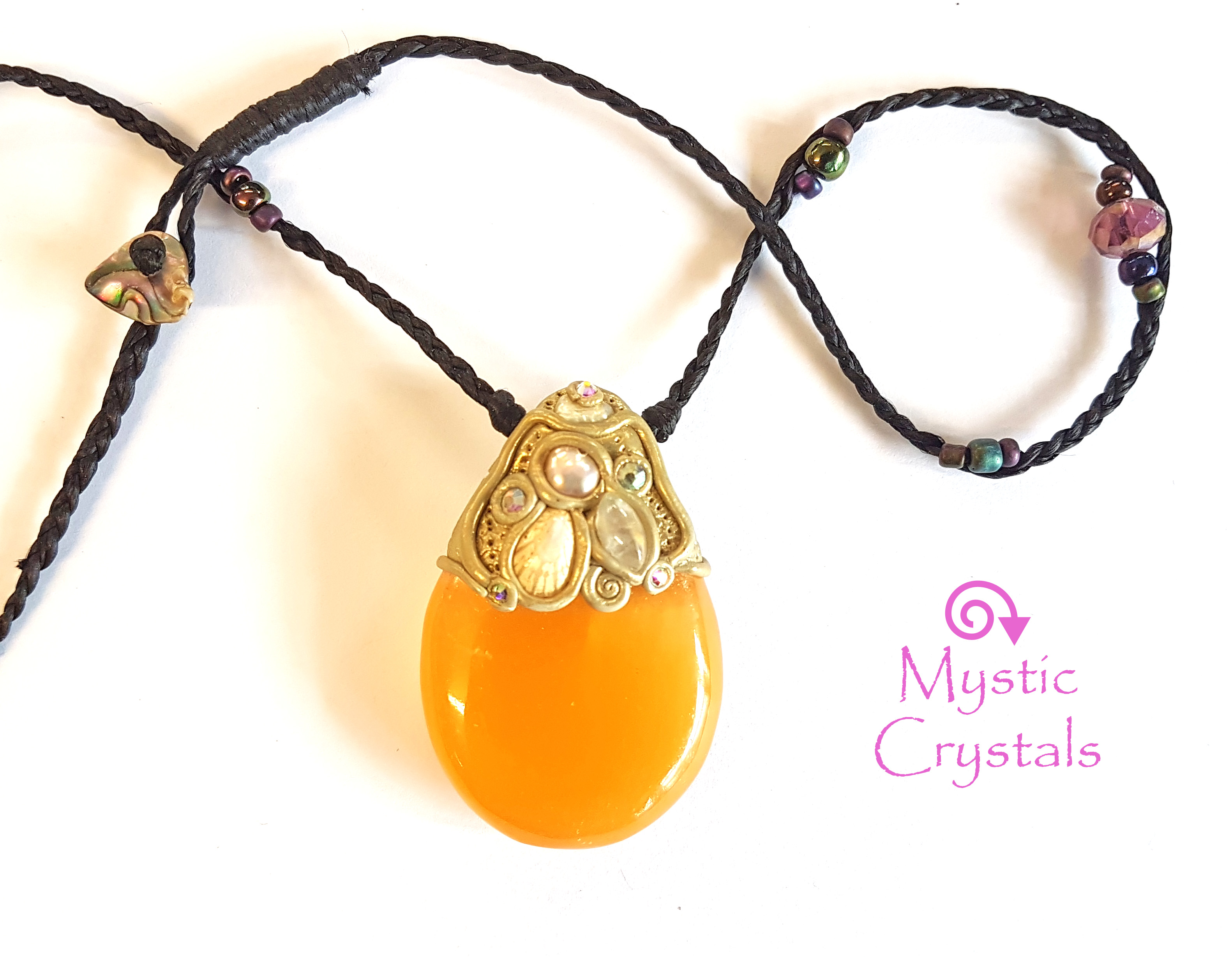 $ 115 NZD
Orange Calcite, Moonstone, Seashell, Pearl. This piece emanates a beautiful soft peaceful energy like going for a walk in the sunshine. She brings a sense of calm and stillness within. She will enhance creativity and nurture the creative light within and bring new inspiration to the fore as she has many secrets to share. A lovely piece awaiting her Creative Goddess to step forward into the light. Pendant length 4.5cm, necklace length 46cm.
Truth Seeker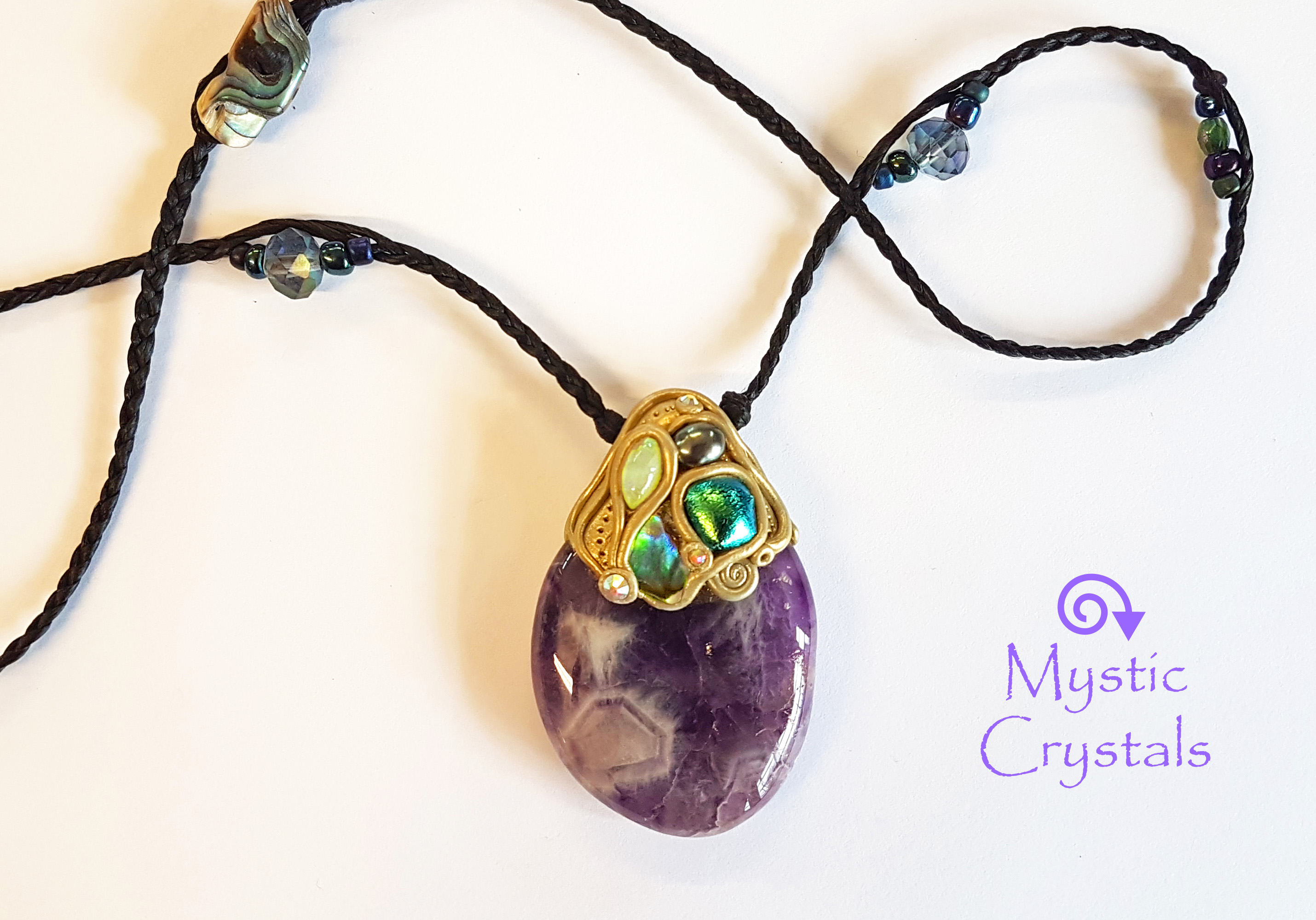 $ 130 NZD
Chevron Amethyst, Moonstone, Pearl, NZ Paua. Amethyst opens the third eye to inner knowing and seeing through the veils of illusion. Truth will come to light with the wearing of this piece. She will help you to cut through the layers to find the jewels within. Intuition is enhanced and clarity is seen. She will help you to make the changes you need to make with insightful awareness and confidence. Pendant length 5cm, necklace length 50cm.
Inner Peace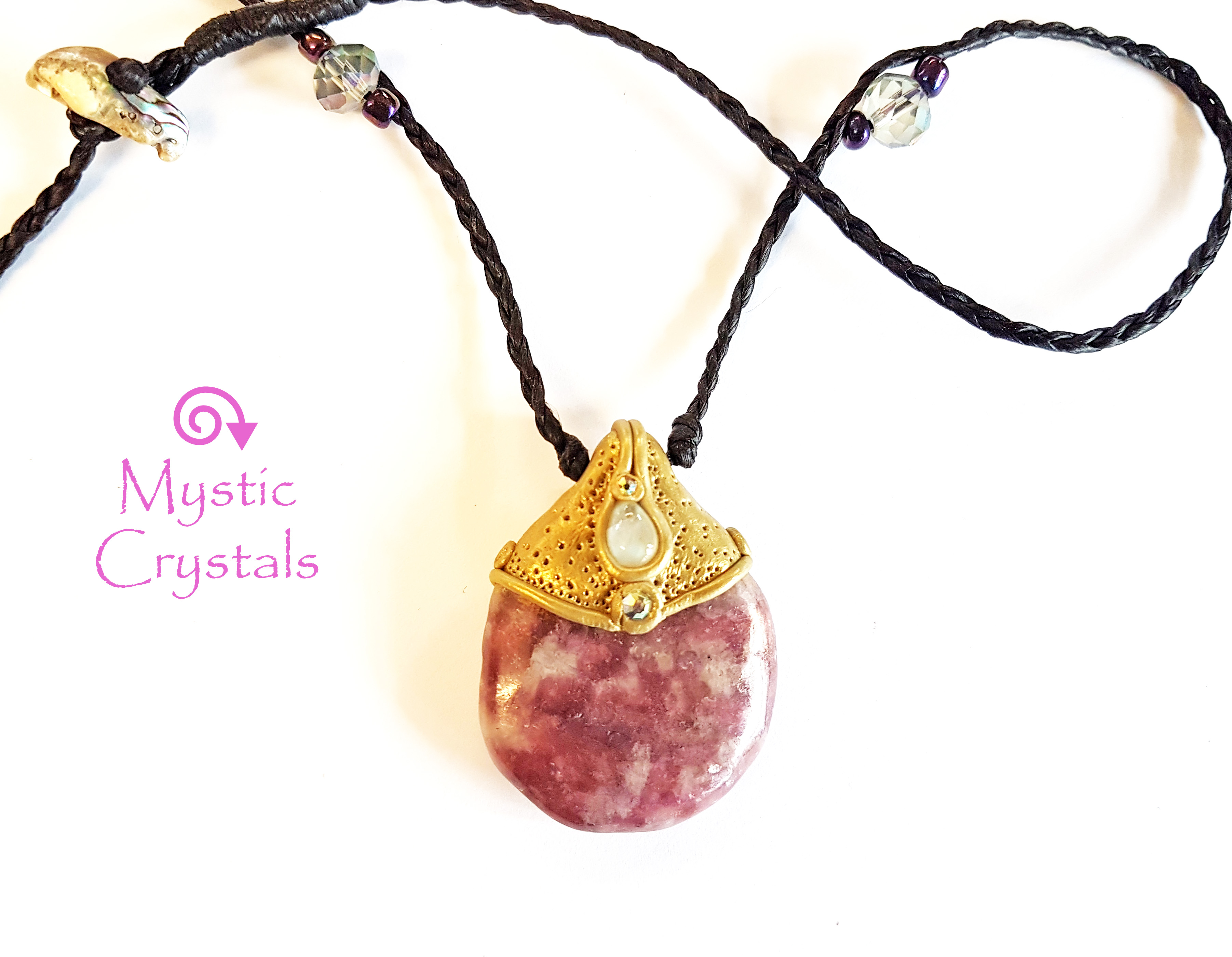 $ 70 NZD
This gorgeous piece exudes the tranquil energies of peace, hope and acceptance. She shows one how to cope with stressful situations by using calmness as a tool and brings a sense of inner peace to the fore. Bringing help with transitions she shifts and restructures old energy patterns and brings the light of hope to any situation. Lepidolite and Moonstone
Amulets for Men
Amulets for men are now available by special order. If you would like to order one please let me know what stone you would like or if you are unsure I can give you some options to choose from and we can work together to create the perfect piece for you.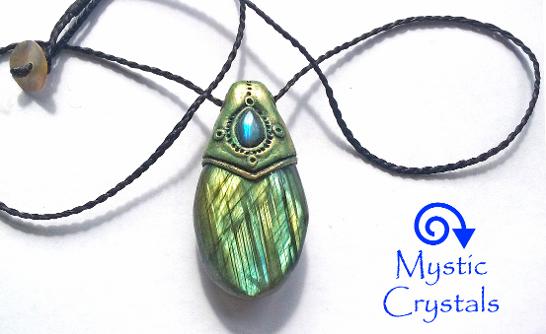 Mens Amulet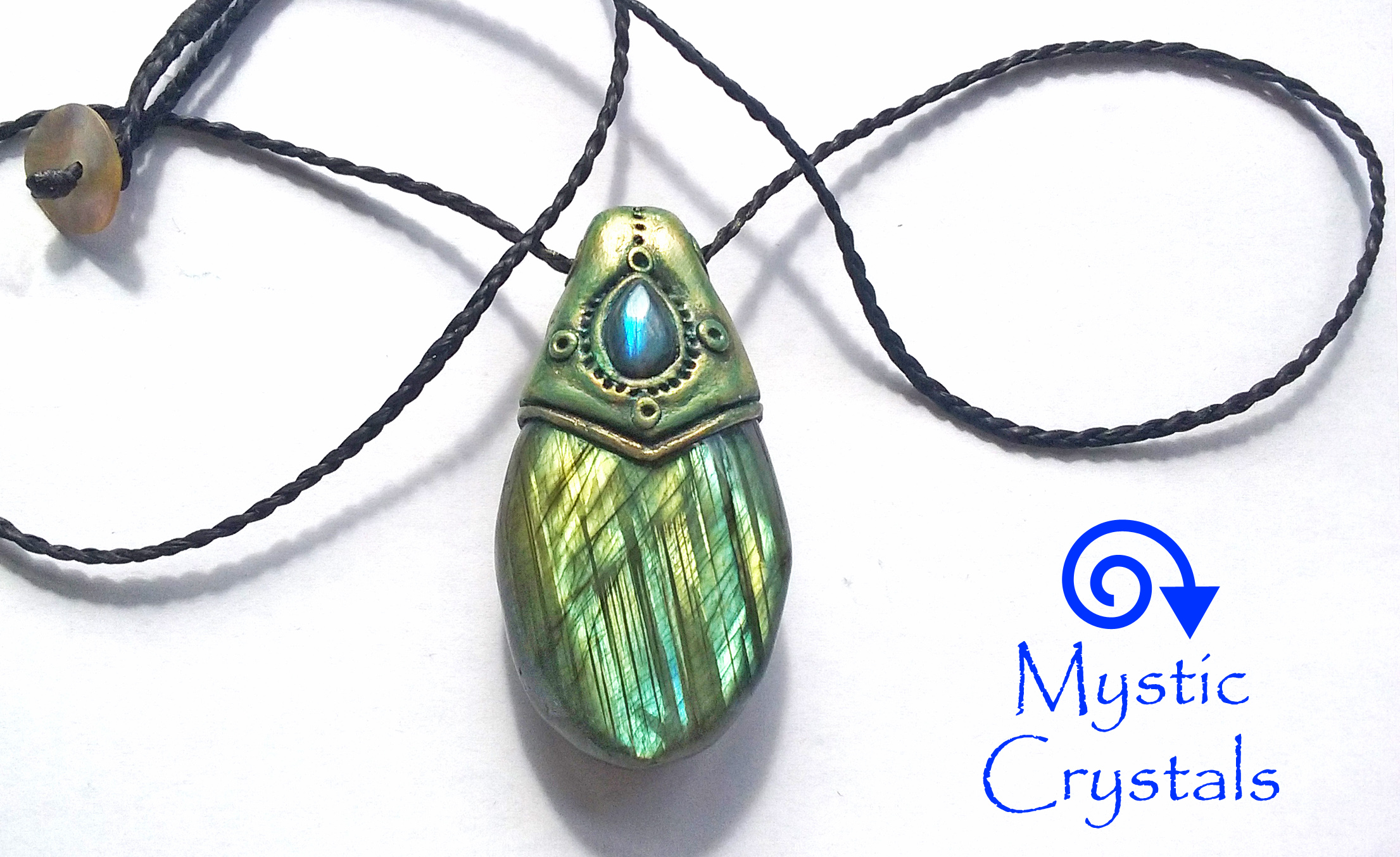 $ 125 NZD
Past Creations
If you would like something similar to any of my "past creations" please let me know
Click thumbnails to see larger images.